What are Germany's best logistics brands? This was the question that almost 1,000 logistics experts and supply chain managers answered with their votes. Organized by LOGISTIK HEUTE and BVL , the poll included no less than 260 brands in 11 categories. The winners were announced at a gala event held in Berlin on April 26. DB Schenker was among this year's prize-winners.
Industry award of major importance
The celebration was held at the representative Berlin office of publishing company Bertelsmann, with over 200 guests gathered to attend the award ceremony and enjoy the night with the winners. The guests included figures from the logistics sector in addition to big names from the worlds of politics and media. Which is anything but surprising: The logistics industry is one of Germany's three most important economic sectors, as Thilo Jörgl, editor-in-chief of LOGISTIK HEUTE, emphasized at the end of last year: "With a workforce of almost 3 million, this sector is expected to generate a total of EUR 258 billion in 2016."
The industry's public image, shaped largely by participating companies and their brands, also has an important role to play. "Strong brands are highly visible and can have a tremendous impact on the long-term image of an entire industry," says Prof. Dr.-Ing. Thomas Wimmer, Board Chairman at BVL. With this in mind, the poll of Germany's best logistics brands is a key indicator that reveals what companies make a particularly positive impression.
DB Schenker – first-class contract logistics brand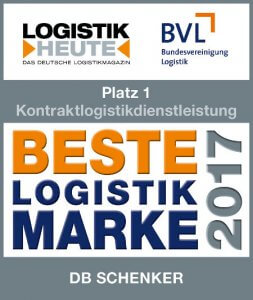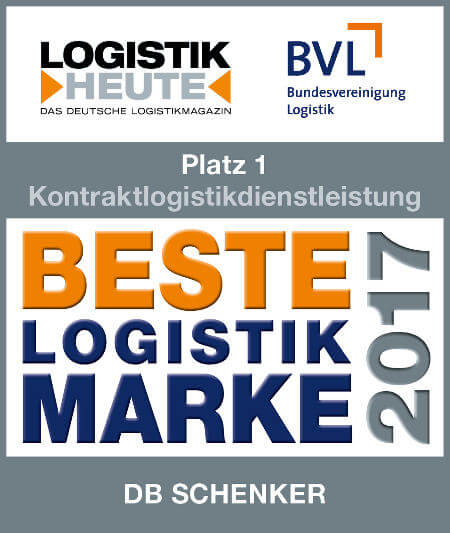 It is therefore particularly satisfying to know that DB Schenker was also on the list of winners. Last year, the logistics experts took second place in the ocean freight category and came third in the road freight transportation category.
This year saw DB Schenker win gold for contract logistics services, a sector that has been steadily growing in importance for the company for years.
The runners up for second and third place were Dachser and Kühne + Nagel. Our colleagues at DB Cargo went home with first prize in the category of rail transportation services.
An important goal at the logistics company is positioning its contract logistics services as part of a comprehensive integrated logistics concept for the market. For Dr. Thomas Böger, the award signals that this strategy is successful: "Drawn from a diverse range of people, the public's choice reveals how much professionals appreciate our brand and the people behind it. These are the people who give their full attention to contract logistics each and every day."
"Award from @BVLoffice & @Logistik_Heute: DB Schenker best logistics brand in contract logistics"

Tweet WhatsApp
2017's best logistics brands at a glance
36 of the 260 nominated brands stepped up to collect a prize in the eleven categories. Just who were those winners? Logistik Heute has created a list of them.