June 7, 2017, was National Packaging Day in Germany, and DB Schenker used the opportunity to showcase its services in a very special way. In Leipzig, the country's leading logistics expert opened the doors to Europe's largest logistics center for supplying foreign plants (LZA Leipzig), operated on behalf of automaker BMW.
Extensive expertise
Led through the plant by DB Schenker employees, a group of over 40 people from the fields of research and economics got to see first-hand the full range of packaging options used for dispatching car parts. Anna Förster, head of packaging planning at LZA, said, "It was a great event. We were delighted by the keen interest shown by our visitors, and in particular by all of their technical questions."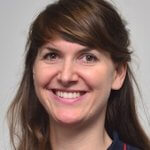 Anna Förster, head of packing planning
"By continuously optimizing processes and capacities, we can stay flexible and so respond to our customer's requirements."
BMW's Leipzig plant produces parts for places as far away as China and South Africa, so Schenker Deutschland AG uses its base in the city to dispatch materials to BMW's car plants outside of Germany. It employs 1,100 people and covers 125,000 m2, while 130 trucks dock at its materials receipt unit every day. LZA warehouses over 7,100 different car parts, from individual nuts to entire engines. Every day, DB Schenker packs up 3,000 m3 of material into an average of 55 containers for outgoing goods.
Sustainability and safety
Nothing is allowed to happen to components as they make the long journey to their destinations, so they have to be packed with great care. Containers do not just have to be secure, but they also have to generate the smallest possible amount of refuse when they arrive. Förster explains: "Permanent optimization and evolution are important for us as we strive for excellence. By continuously optimizing processes and capacities, we can stay flexible and so respond to our customer's requirements."
The new transportation simulator is one example of how good the logistics experts are at identifying innovations. Featuring a vibrating table that uses different frequencies, it was developed as part of a joint project between DB Schenker, Leipzig's university of applied sciences, and a local engineering company. LZA staff use the unit to check new delivery containers for stress caused during journeys over long distances in different forms of transportation.
"Logistics for BMW: DB Schenker designs packaging for high-grade components"

Tweet WhatsApp
Another open day highlight for visitors came when they got to take a look inside the training center run by DB Schenker's German subsidiary. Here, they were able to try out virtual reality units for teaching new hires. Förster says, "Using these kinds of devices, the visitors were able to drive a virtual forklift, move items, and pick deliveries. We use LZA as a base for pilot schemes for training employees more efficiently. At the same time, simulating typical activities lets us find out if potential employees have the necessary skills for packaging processes." By deploying interactive training approaches such as this, the company once again proves itself to be one of the region's most attractive employers.