Competition in the logistics market is intense and demand-driven. A logistics provider such as DB Schenker can only stay ahead of competitors if is willing to commit fully to service provision and is, at the same time, completely focused on quality. Spares logistics for Vestas Wind Systems A/S is a good example. Headquarted in the Danish town of Aarhus, it is the largest manufacturer of wind turbines in Europe and one of the largest in the world. Vestas' sales volume by the end of 2016 came to a sum total of 59,909 wind turbines in 76 different countries around the globe. Innovation and performance are the two issues that power the company's progress.
Vestas has commissioned DB Schenker to handle logistics for its turbines in Europe and so make sure that units never need go offline of suffer downtime due to a shortage of replacement parts. A 24/7/365 program of countermeasures guarantees that the right parts are on-site exactly when they are needed. From their central logistics hub at Mutzschen near Leipzig, the logistics experts work to supply the approximately 14,000 turbines installed around Europe with 22,000 different replacement parts. At the same time, DB Schenker ensures that the 2,500 technicians working on the turbines have the right tools for the job. Alex Frings says, "If we didn't work like professionals, power customers' lights would turn off and Vestas would have to pay penalties to the turbines' operators. It's like when a conveyor belt breaks down in the auto industry."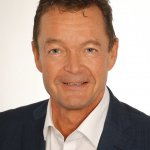 Axel Frings, Senior Vice President for Supply Chain Collaboration
We have to make all of our employees aware of our customer's needs and be in tune with them at all times.
Just like automakers, turbine producers in the renewables sector have constantly changing demands that the logistics experts have to meet. The most influential factors here are the ability to identify service inadequacies, quickly correct problems, and reestablish services.
Digitalization offers a lot of opportunities as it enables tremendous improvements to be made, so long as everyone concerned maintains communication and can exchange data freely.
Schenker Deutschland's professionalism as Vestas' logistics provider has earned the company respect throughout the industry. "Right now, we are developing complex solutions for another major player in the off- and onshore sector, and we are very confident that we will continue to upgrade our expertise in this field," says Frings. To this end, the company can also mobilize skills that it acquired when working for the auto industry.
"Spares logistics for Vestas: DB Schenker delivers outstanding services"

Tweet WhatsApp
Successful spares logistics need more than just precision planning: Commitment to excellent service and outstanding team quality are also vital. "For us, this means promoting the awareness of our customers' needs among employees involved in global service fulfillment and ensuring that they are in tune with these needs at all times," says Frings. "Only this level of attention enables us to establish a relationship of trust with customers and gradually maximize all of the added value opportunities available to us."