Counterfeit medications are a life-threatening problem. The World Health Organization (WHO) estimates that one million people die each year from drugs that do not contain the active ingredients they are supposed to. Up to 10% of medications do not come from the manufacturer indicated on the label. The problem is even worse in Africa, where four out of every five medications are counterfeit.
"We know that both generics and innovative drugs are being counterfeited, everything from cancer treatments to inexpensive pain relievers," says António Campinos from the EU Intellectual Property Office. "These counterfeit drugs can be toxic and pose a serious health risk." They are usually manufactured in Asia or Eastern Europe using substances that have little to do with the real active ingredients, or they fail to meet European safety guidelines.
Counterfeiting has enormous consequences, not only for patients, but also for the pharmaceutical industry. The EU estimates that in Germany alone, companies lose more than EUR 1 billion in revenues a year as a result of counterfeit medications.
Murky supply chains
Secure and transparent supply chains are one way to protect against counterfeiting. Pharmaceutical logistics isn't the same as it once was: customers now have to rely on a growing number of service providers. The global networks of pharmaceutical sales companies combined with the increase in longer and international transports by plane, ship and truck have made supply chains more complex. And online sales, with sometimes shady transport routes, are increasing as well.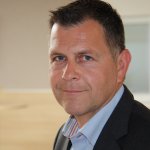 Frank Burkert, DB Schenker
"We work with original suppliers, which allows us to offer an integrated, high-quality end2end service and ensure that no counterfeit medications come into circulation."
Logistics professionals can help prevent counterfeiting, which is why their supply chains have been required to comply with the EU's Good Distribution Practice (GDP) Directive since 2013. "GDP rules require strict monitoring of the transport chain. Every participant in our global network must have the necessary certification," says Frank Burkert, Head of Global Vertical Market Healthcare at DB Schenker.
Seamless monitoring
DB Schenker works with customers to develop customized supply chain solutions to make sure that time and temperature-sensitive products reach the consignee safely. "We work with original suppliers," says Burkert, describing the situation at DB Schenker. "This allows us to offer an integrated, high-quality end2end service and ensure that no counterfeit medications come into circulation." Special handling and monitoring ensure the integrity of products. Smart tools, such as DB SCHENKERsmartbox, can ensure seamless monitoring of consignments.
"One million people die each year as a result of #CounterfeitDrugs and sloppy supply chains."

Tweet WhatsApp
DB Schenker also only works with partners that provide the same level of quality. "If you can't guarantee seamless quality, then your reputation suffers. That would mean the end of our business," says Burkert. The same is of course true for manufacturers. They have to protect their reputation in the market and maintain customer confidence. It takes both logistics specialists and manufacturers working together to ensure the origin of medications – and to help save lives.