DB Schenker is not your typical e-commerce logistics service provider. Well, actually, that statement is not entirely true. It goes without saying that anyone thinking about logistics and online retail will probably start by imagining a CEP service provider. All those packages assembled by digital mail-order firms have to get to their buyers somehow (and they often make the return journey, too). However, e-commerce entails the management of a complex supply chain before an item is actually dispatched, and e-commerce means contract logistics.
This is where the experience that a major logistics expert like DB Schenker has comes into its own. Transportation, warehousing, data connections, value-added services, returns management – e-commerce must deliver all of these and meet high efficiency standards at the same time. Logistik aktuell spoke with Marc Clausing, head of consumer business development at Schenker Deutschland AG. We also talked with a customer, Casper, as a way of illustrating current activities in this field.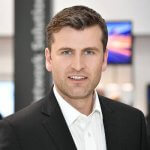 Marc Clausing, head of consumer business development
"In order to meet the complex demands of e-commerce with maximum efficiency, we are able to mobilize our experience with contract logistics and a very large network of qualified logistics services."
Logistics requirements in e-commerce
Logistik aktuell: DB Schenker doesn't deliver parcels to anyone's door, so what kind of customers does the company have in the e-commerce sector?
Marc Clausing: We shouldn't reduce e-commerce to the giant online retailers with large product portfolios. There are lots of specialist manufacturers that sell their goods online, or that at least use the internet as one sales channel among several. This second group can, incidentally, also include large companies. Transportation and storage are not among these firms' core competencies, so they need partners that can provide tailored support for all of their logistics-related needs. At DB Schenker, online retail is an example of just how demanding the work of contract logistics can be.
Logistik aktuell: How would you describe some of the typical requirements that logistics service providers have to meet as e-commerce partners?
Marc Clausing: The customers need individually designed solutions that may be based on Schenker's standard procedures but are geared to suit the customers' specific needs. They also demand integrated solutions that cover a host of different logistical activities. Transportation is just one component among many. Fulfillment at warehouses has a major role to play. It covers order management, which, in e-commerce, entails a data connection to the customer's shop and merchandise management systems for the purpose of displaying warehousing capacities and pooling key data, checking stock levels, and – if necessary – automatically placing orders.
Logistik aktuell: Are those the requirements of contract logistics customers as well?
Marc Clausing: Yes, but there are also joined by a number of issues that are typical for e-commerce operations. Online retail customers are used to very fast reaction times, which in turn exerts strong pressure to optimize activities back along the entire supply chain. The extreme volatility of order quantities is another factor, with online orders peaking at weekends. In order to meet the complex demands of e-commerce with maximum efficiency, we are able to mobilize our experience with contract logistics and a very large network of qualified logistics services.
Casper and DB Schenker: A partnership with growth potential
Let's take a look at one specific business case.
Founded in New York in 2014, Casper has everything that you would associate with a successful e-commerce start-up.
First of all, there is its innovative business idea. Casper's field is a good night's sleep, and the firm produces and markets mattresses, pillows, and bedclothes. Within its segment, it operates on a very lean and smart product philosophy: It only sells one type of mattress, made from foam that rates very highly in the key quality categories of comfort, stability, temperature, and durability. The company's design ethos reveals its thinking: Make things simple but make things well.
The product itself is flanked by a sales strategy, one with logistical consequences. E-commerce is the prime conduit for Casper's sales. While the company now works with some large department stores by running temporary pop-up outlets, online retail is still its core sales channel. "Mail-order" mattresses normally have to be sent as bulky goods, which means that delivery can take some time, in contrast to the quick delivery times that e-commerce customers are familiar with. For this reason, easy delivery via CEP services was one of the factors that Casper had to consider when developing its product. The result: mattresses that permit a high level of compression.
"We only use high-quality, elastic types of foam, which enables us to compress our mattresses with ease and without damaging their shape. This means that we can send our mattresses to destinations across the country quickly and easily by packing them in an incredibly compact box and paying a fraction of the costs that would be entailed if you were delivering an uncompressed mattress." Jeff Chapin, chief product officer at Casper
This combined product and sales concept has taken off. Casper is growing quickly, and it entered Europe's markets in 2016 following its success in the USA and Canada. It produces its mattresses locally, i.e. within the region where they are sold. The sales process remains the familiar online system.
Given these factors, the search for a suitable logistics partner became an issue of crucial importance. Following an in-depth but brisk survey of the options, Casper opted for DB Schenker as the right company for German-speaking countries. Marc Clausing provides a few more insights into this decision: "When looking for a logistics partner, management at Casper studied large, well-established providers and innovative new logistics companies alike. What they were looking for was real professionalism along the entire supply chain and the ability to dynamically fulfill the strongly fluctuating requirements common in the e-commerce sector. One final element of strategic importance was the fact that DB Schenker will be able to reliably provide the long-term logistics capacities necessary for the company's planned expansion in the coming years."
"#eCommerce: That's how DB Schenker supports @Casper regarding #logistics"

Tweet WhatsApp
DB Schenker made a shared logistics center into the central transshipment base for its Casper business. This warehouse's layout flexibly covers current demands and future expectations. Marc Clausing: "Strategically advantageous, our solution offers the benefit of late cut-off times with regard to various CEP service providers. We use a specially reserved section of the warehouse for registering and storing Casper's mattresses, and we have created a dynamic link to connect the customer's e-shop and materials management system with our DB Schenker warehouse management system."
Orders are dispatched on the day they arrive and fed into the CEP network. Marc Clausing: "The pronounced time-related fluctuations are something you often see in the online retail sector. A very large number of orders are placed on Sunday, but the convenient location of our shared logistics center helps us to get through these surges in demand. We work with several of our logistics bases throughout the region and, together, we ensure that employees are available on a flexible basis."