Regionally produced tomatoes, wood pellets, or leather goods from long-established firms in the immediate hinterland: Local produce is experiencing a renaissance. Interestingly, this development is in no way confined to upmarket goods.
Globalization once looked unstoppable. The story was all about larger quantities, longer journeys, and greater levels of internationalization as the components that industrial firms require for their production activities cover ever-longer distances between source and destination. However, a change is now happening as companies turn away from using inexpensive labor in countries far away: A growing number are instead producing within their home country or in a neighboring state.
Higher quality thanks to nearshoring
Nearshoring, sometimes called onshoring, is the name of the process by which companies relocate production activities to a nearer base. It is growing in strategic importance, particularly for firms that see their strengths as lying in quality standards, the availability of technical systems, and the flexibility to respond quickly to new market conditions. "Nearshoring and onshoring help magnify these advantages," says Bernd Müller-Dauppert, a board member at Miebach Consulting. In an extensive study, the consultants examined nearshoring and onshoring in terms of their competitive benefits and impact on supply chains at industrial companies.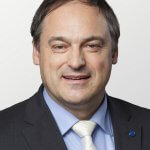 Bernd Müller-Dauppert, Miebach Consulting
"The complexity of the supply chain represents a threat to on- and near shoring."
Automated production is one reason for change in strategic thinking. More than half of the companies surveyed by Miebach say that new IT, one piece flow, automated assembly, robots, and the digital factory 4.0 are important trends for them. Together, these factors transform the nature of production and lead to significantly lower staff costs. Service and quality are also becoming valuable advantages over competitors. The upshot of all this: Nearshoring is becoming more attractive.
Nevertheless, there is one factor that could slow this development down. Müller-Dauppert points out that the complexity of the supply chain represents a "threat" to on- and nearshoring.The new approach makes supply chains more complicated as new and nearby sites are augmented, not replaced, by offshoring bases. This makes the interactions between the various sites more complex.
An integrated view of production
For logisticians, the change means that they have to work with their customers on an integrated analysis of supply chain and production networks. Logistics costs, delivery times, flexibility, and adaptability play just as important a role as manufacturing costs, infrastructure, and the availability of trained staff at the relevant sites. Logistics companies must also possess the networks and expertise that permit them to deliver a level of service quality that matches supply chains of increasing complexity, and they also require regional bases so that they can meet their customers' demands. Finally, they have to be capable of flexibility in order to respond properly when a loader changes orders for its service providers.
"The end of #globalization? Companies manufacture goods at home again if logistics companies play their part"

Tweet WhatsApp
Müller-Dauppert sums this development up: "We will see a decline in transportation activities over long distances, i.e. ocean and air freight, but short-distance deliveries will experience growth. All the same, I don't want to make any predictions about the impact this will have on service providers. It could be the case that new products which once more require long-distance travel will appear on the market."