Man and machine have been working together for a long time. Now, the Munich-based company Franka Emika wants to make the use of such machines even easier with a newly developed robot: highly flexible, small robots ought to learn motion sequences themselves and be programmed easily via app.
"We have developed an interactive learning robot that makes it possible to make robotic technology available to everyone," says Professor Dr.-Ing. Sami Haddadin, Director at the Institute of Control Engineering, Leibniz Universität Hannover. For this, Haddadin and his company Franka Emika were awarded the German Future Prize on 29 November 2017. With this award, the President of Germany acknowledges outstanding natural and engineering achievements.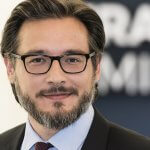 Professor Dr.-Ing. Sami Haddadin
"We have developed an interactive learning robot that makes it possible to make robotic technology available to everyone."
In robotics, a new age has begun, says Haddadin: "Our robot has a sense of touch that we copied from man. We have imitated the motor skills of man. This means that every medium-sized company can afford a robot for less than 10,000 euros." The robot has seven degrees of freedom – that's how the axes are described, via which movements are carried out. Thus, it can sensitively lift loads weighing up to three kilograms and precisely place them.
Haddadin is one of the leading developers of lightweight robots. Thanks to sophisticated sensors, they can support people in the workplace without endangering them through mechanical and rigid processes. Therefore, they are called cobots – "collaborative robots". They are much more flexible than the big industrial robots that automakers use in their production lines. For this reason, they can also be used in other areas outside of this industry.
1.7 million robots worldwide
And there is a huge need: the number of robots worldwide is growing faster and faster. According to the International Federation of Robots, 1.7 million robots will be working in factories in two years' time. One reason for the increasing automation is that more and more medium-sized companies from various industries are interested in these mechanical helpers. For example, robots are already being used in logistics: especially in fast-paced e-commerce, they help with so-called picking tasks in warehouses. In Sweden, DB Schenker uses CarryPick, an automated picking and return system for online orders.
"With sensitivity to #Warehouse: #FrankaEmika robots are easy to program and imitate movements."

Tweet WhatsApp
But unlike highly complex automation systems, the Franka Emika robot is easy to program. Instead of extensive control commands, a short tap on the display is enough. Once the "Grab" and "Drop" apps are activated and the movement is then demonstrated, the robot understands the task and saves the sequence of motion. Companies could use each of their employees to program the robot, says Hadadin. Incidentally, the robots have had their first industrial uses for a year: they manufacture themselves.