Data protection is one of the basic conditions for the success of Industrie 4.0. The implementation of protected areas is often a challenge, even within the scope of one's own internal IT. But the exchange of data between companies places even higher demands on the protection of communication and data management.
Technologies such as secure VPN tunnels or sophisticated encryption techniques help to accomplish this task, but until now there has been a lack of cross-company and cross-industry standards. In the Industrial Data Space (IDS) – a data space that the Fraunhofer-Gesellschaft is currently developing with companies from industry – users are provided with a secure architecture standard for the exchange of data. Assuming, they are members of the user network – like DB Schenker is since May 2017. "We are the first logisticians to join the IDS and are now exploring its potential," says Dr. Christian Tummel, Business Consultant in Data Strategy and Analytics at DB Schenker.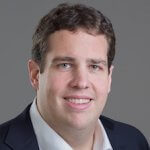 Dr. Christian Tummel
"We are the first logisticians to join the IDS and are now exploring its potential."
Opportunities and standards
The reasons for joining are simple: Viele der großen Industriekunden von DB Schenker sind mittlerweile Mitglied im IDS. Durch die Analyse von eigenen und Fremddaten wollen sie neue Geschäftsmodelle herausbilden und bestehende weiterentwickeln. Hierbei setzen sie auch auf die Bereitschaft der Dienstleister, sich ebenfalls mit neuen Technologien auseinanderzusetzen und Synergien zu nutzen.
Many of DB Schenker's major industrial customers are now members of the IDS. By analyzing their own and external data, they want to develop new business models and enhance existing ones. In doing so, they also rely on the willingness of service providers to also deal with new technologies and exploit synergies. "As a logistics provider, we are an elementary component and right at the center of global supply chains." Christian Tummel.
In addition, DB Schenker can help to develop standards for data security in the coming years. "It is clear that there must be standards for the secure cross-company exchange of data. It is not yet clear which. In case of IDS, it is not only about data protection, but also about standards in the 'digital relationship' with our customers," says Dr. Christian Tummel.
Fear of losing control
Data exchange is a matter of trust: Three-quarters of all medium and large companies in Germany already share data with customers and business partners. But more than half are afraid of revealing trade secrets. This was the result of the study "Data exchange as an integral part of digitization" of the consulting firm PwC. In the IDS, companies theoretically have the ability to share data without losing sovereignty over sensitive, proprietary information. There are several starting points and intensive discussions with potential partners on applications in which the Industrial Data Space can play a central role. "The IDS is exciting, because we all realize how much we have to rethink. A switch from doing things alone toward collaboration and real exchange," says Tummel.
Data Security with the IDS

The "Industrial Data Space" is a reference architecture without a central server. Each participant provides selected data. A "connector" called relay station guarantees high security with simultaneous data exchange.
Special software links companies, cloud platforms and networked objects, ensuring that data is only used and processed under defined conditions. Information can also be anonymized prior to shipment.
In addition to DB Schenker, 78 companies are now involved in the network.