E-mobility will revolutionize the auto industry. Not only because new manufacturers with new ideas are entering the market. But also because traditional business models are disappearing – or at least severely contracting. For example, the replacement parts business. Thomas Mathives, director and member of the management board at Miebach Consulting explains how big of an influence e-mobility and digitalization is in this sector.
Mr. Mathives, as a market segment manager of after-sales, spare parts, and maintenance solutions, knows the constraints that are being imposed on auto builders and their suppliers. How dramatic is the development for car manufacturers?
The topic is existential for car manufacturers and their suppliers. The manufacturers are facing several problems at the same time. They, and especially engine plants, are dealing with immense challenges: the lower proportion of diesel engines and the substitution of gas, hybrid or pure electric-powered vehicles. This even affects the program planning all the way to the integration of production orders. Add on top of that the predictable slump with replacement parts business and after sales services. Some manufacturers and retailers make up to 70 percent of their profit alone through that. If these profits disappear, they must be replaced. This now affects the range and the availability of spare parts ¬– in other words, it changes the production and the algorithms that underlie the after-sales operations. Today, it still deals with rather straightforward unit sales, but going forward, the problem will grow exponentially.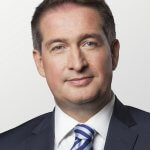 Thomas Mathives, Miebach Consulting
"The topic is existential for car manufacturers and their suppliers. Some manufacturers and retailers make up to 70 percent of their profit alone through that."
What about the replacement parts?
For one, e-mobility leads to a reduction of replacement parts. An internal combustion engine has more than 1400 individual parts, an e-motor only around 210. E-vehicles are less susceptible to repairs by way of a different construction and lower driving performance and have to go to the shop less frequently. Add to that the digitalization. It not only affects the physical logistics, but also fundamentally alters the market requirements for firms and the planning parameters. We are seeing that today already with car-sharing fleets as a reaction to changed mobility. They are not really profitable, but are a type of playground for spare parts. For example, the increased monitoring of the fleet could lead to the vehicles not having to be in the shop so often anymore, but instead maintained on site. Logistics concepts are conceivable for trunk and rendezvous deliveries for mobile maintenance and repair tasks. Furthermore, more autonomous driving increases safety – and therefore leads to less damage, which reduces the demand for replacement parts and the revenues for these components.
What is triggering the increasing cost pressure? Is it leading to more outsourcing, for example in logistics?
The German car manufacturers themselves are pursuing different philosophies: some want to keep more control over their supply chains. Other producers are saying: we build cars, logistics is not our core business – and outsource such services. This development offers logisticians really good opportunities to benefit from an outsourcing. Less replacement parts means less shipments, though I do not anticipate that suddenly coming to an end, especially with spare parts. The auto manufacturers have an entirely different planning cycle. Depending on manufacturer, they stockpile spare parts for 10 to 15 years after the end of production. Some manufacturers even expect a life-long spare part delivery from their suppliers.
"Business with #auto spare parts: In the era of #e-mobility, logisticians need new ideas in order to survive"

Tweet WhatsApp
So what can logistics providers do?
The entire after-sales business will change, because these developments require new approaches. Going forward, it will be about services that don't yet exist today. E-commerce and the direct sales of auto parts over the internet fundamentally alters logistics. Shipments are not only occurring from and to the OEM warehouses but also to other destinations– all the way to the end customer. The last mile to the downtown centers is becoming more important. Even the recycling of used parts is gaining in significance. As a result, the logisticians are a bit of a victim because in the current transformation, everything is new.