Logistics for wholesale and retail trade is about more than just transporting goods. Logistics providers help their customers to position themselves in the market using innovative solutions and sophisticated processes. Take wine logistics, for example, where a special tax warehouse supports the distribution of wine. DB Schenker operates such a tax warehouse in the Bingen office.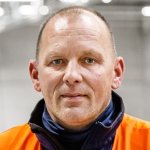 Jürgen Müller
"A tax warehouse gives our customers a large degree of flexibility to react to the fluctuating market."
Bingen is at the heart of German viniculture – wine was being cultivated here as long as two thousand years ago. The logistics expert Schenker Deutschland now operates two logistics centers here in north-west Rheinhessen, Germany's largest wine-growing region. DB Schenker not only provides traditional logistics and storage services for wine and coffee, but also a whole range of added-value services for retail customers – from cleaning and customized packaging to the aforementioned tax warehouse. The idea behind it is that, so long as wine and alcoholic goods have not yet reached the customer, the clients do not pay any taxes or customs duty. These charges can quickly add up when it comes to high-percentage beverages.
Hive of activity at the end of the year
"Particularly before public holidays, it's a hive of activity here," explains Jürgen Müller, operations manager in Bingen-Sponsheim, in the bustling noise of the warehouse. Large wine customers store their beverages here on demand. The 31,000-square-meter warehouses can be heated against frost, which means mild temperatures of over ten degrees Celsius in the winter. 36,000 pallets are stored in the high racks. 42 employees working in two-shift operation ensure that everything runs smoothly at this site. This facility has only been up and running for the last year and a half, but has closely linked its processes with the land transport office in Waldlaubersheim.
Flexibility and cash flow
As a part of the entire facility, the tax warehouse provides special added-value – as long as the goods remain stored safely on DC Schenker's racks, the clients, including well-known retail groups and renowned wine dealers, save on often considerable government charges. "Such a tax warehouse gives our customers a large degree of flexibility to react to the fluctuating market," explains Müller. "At the same time, the customers also benefit in terms of cash flow. They only pay taxes when the goods reach the market. Ultimately, this type of warehouse saves customers the complex task of settling different excise duties when trading within the European Union."
"#Year end 2017 – DB Schenker's #wine logistics warehouse in #Bingen is currently a hive of activity"

Tweet WhatsApp
However, operation of these types of facilities is strictly regulated. Tax warehouses have to be approved and supervised by the state. The IT system must be appropriately designed for accounting, in order to be able to fully document storage of the goods. It is also demanding for the employees – they have to be able to verify which outbound areas they collected the goods from. There is no margin for error at this interface between trade and tax law. "Wine logistics is a business for professionals," states Müller.
Taxes and Duties

Tax warehouses are places at which or from which excise goods can be produced, processed, handled, stored, received, or sent under suspension of excise duty, i.e. duty-free. The term excise goods includes spirits, goods containing spirits (products), beer, sparkling wine, intermediate products, alcopops, tobacco products, and coffee.