Air freight is not just fast – organizers must be able to respond quickly to changing conditions, from terror threats to earthquakes or other unforeseen disasters. Dr. Niklas Wilmking, Head of Air Freight Cluster DE/CH at Schenker Deutschland AG, explains how logistics identifies risks and plans accordingly.
Dr. Wilmking, an air freight manager at DB Schenker once said that lots of air freight in supply chains means that the supply chains are poorly planned. Is that true?
No, that's not always the case. But air freight is used primarily at times of major change in the market – for example, to cope with periods of peak capacity in the supply chain. This can happen when a medium-sized company that is world leader in a particular segment is unable to scale up its production capacity at short notice. It's producing so quickly that it can't afford to send goods by land or sea for weeks at a time. So the company has to book air freight.
Air freight is exposed to many risks. What does risk management in air freight involve at Schenker Deutschland AG?
Basically, risk management means flexibly providing customers with the capacities they need to transport their air freight on schedule. Even if there are problems in the market.
In operational terms, this means we can have structures in place to deal with high peaks at our air freight hubs.
Is there always a plan B?
In a broader sense, risk management means preparing air freight meticulously – so also planning possible alternative routes and airports. A very good example of this was the major volcanic eruption in Iceland in 2010. Then, we were able to use alternative airports outside Germany. We have to think ahead, identify such events and risks, and plan accordingly, wherever possible.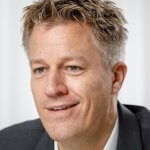 Dr. Niklas Wilmking
"We have to put ourselves in our customers' shoes and understand their goods flows better."
Do customers expect this of you?
On the one hand, we have to document our processes extensively for our air freight customers. On the other, our customers trust us and assume we have our processes under control. For them, it's not so important that they know about every single stage in a process; they want to be informed quickly if something is not going as planned.
It's possible to safeguard against that kind of more or less unforeseen risk to some extent through comprehensive data analyses. How well equipped is the company in this regard?
It's an extremely important topic for us. We're heavily involved in the Air 4.0 initiative
and currently developing related applications. From the wealth of data available to us today, we have to develop viable applications – also from a production perspective – so that we can anticipate risks. At present, we can determine where air freight was two hours ago. In 2019, we might be able to predict where the goods will be in two hours' time. Such solutions should become part of the services we offer our customers in the future – for example, when they book transport on the internet.
What would you ask of your customers in order to…?
… better plan air freight? Above all else, more information. Many peaks that are announced two or three days in advance are already apparent in the company two or three weeks earlier. For us, this means having to put ourselves in our customers' shoes and understand their goods flows better – which also brings us quickly back to the topic of Big Data.
"Niklas #Wilmking, Head of Air Freight at Schenker Deutschland AG, interviewed about risk management and #predictive #analytics"

Tweet WhatsApp
You lived and worked in Asia for a long time. Does this experience help you now at Air Freight?
Definitely. In Asia, everything's much faster than here. Even more speed and greater flexibility are needed there – and that's precisely what makes this sector so special. I'm particularly fascinated by air freight because of its sheer pace and the various challenges that you have to overcome at the same time.
I really enjoy solving problems quickly. Air freight is complex. When faced with a challenge, I like to break this complexity down into small components, which then show us exactly how we need to tackle the problem. However, I've also learned that air freight is a global networking business where many challenges can only be overcome interculturally. Then, the only solution is to discuss things in person – and I really like that.