The future of mobility is autonomous. In just a few years, self-driving vehicles – trucks, planes and ships – will be finding their own way around outside of major transportation hubs. From the US and Canada to the Netherlands and Scandinavia, companies all around the world are working on autonomous transportation with the support of their national governments. In the shipping business, Norway is particularly active. Oslo's administrative support is aiding the development of new sensors and guidance systems. In December 2017, the government selected Horten on the Oslofjord inlet as a new testing site for autonomous ships, the third after Trondheim and Grenland. Scores of parters from administration, research, military and business are based in the surrounding region, the most densely populated part of Norway. They are working together to test self-steering ships that operate without a crew.
Sustainable transports
Yara has set a milestone: The company joined forces with shipbuilder Kongsberg to create the world's first autonomous ship that is powered solely by electricity. Named after the company's founder, the Yara Birkeland is scheduled to launch before the end of 2018, and it will provide a regional transportation service. CEO Svein Holsether says, "Every day, we need over 100 diesel trucks to take our products from our factories to the docks in Brevik and Larvik, where they are loaded onto ships and transported to the four corners of the globe. Our battery-powered container ship will enable us to shift freight from trucks to ships. This cuts dust and noise, enhances road safety and reduces negative consequences for the environment." Autonomous sailing will also cut staff costs on the route.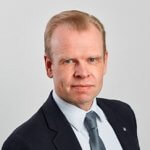 Svein Holsether
"Our battery-powered container ship will enable us to shift freight from trucks to ships. This cuts dust and noise, enhances road safety and reduces negative consequences for the environment."
Full autonomous sailing in 2020
However, for reasons of safety, the Yara Birkeland will have a conventional crew during its first year. They will monitor the vessel and intervene manually when necessary. Because the ship has neither crew quarters nor a bridge, they will sleep in specially converted freight containers. Yara will not start the remote operation of the ship until its second year. The company is planning fully autonomous sailing by 2020 at the latest.
Staying close to the coast – for now
While autonomous ships might be used in different settings in the future, they will, for now, operate only in coastal waters, where technical experts can reach them quickly in the event of difficulties. On longer journeys, a crew would not only need to navigate the vessel, but also see to its upkeep, remove rust, paint its superstructure and, if necessary, repair cargo cooling equipment.
However, some ships are already powered by electric motors: Chinese shipbuilder Guangzhou Shipyard International Company has built a container ship that runs on lithium batteries and operates in the Guangzhou area. After charging for two hours, it can cover some 80 km. It currently operates on the Pearl River, where it supplies a major power plant with coal.
"#Autonomous ships on the high seas are still a long way off, but coastal shipping is another matter"

Tweet WhatsApp
Electric cargo carriers in the Netherlands
In Europe, the Dutch are expanding their inland waterways fleet: Port-Liner is a company aiming to build 15 electric cargo carriers of different sizes over the next two years. It wants to inaugurate a connection between Rotterdam and Tilburg in fall 2018. The craft are equipped with cutting-edge technology, meaning they will be capable of autonomous operation in the future.
As things currently stand, technical issues are less of a stumbling block for autonomous operation than the simple lack of practical experience and regulations. Only when the legal framework and international regulations catch up with technical advances will autonomous shipping become possible.