Logisticians know: one must not paint an image of Australia based only on kangaroos, Aborigines and vacation memories! Otherwise, the misjudgment may come back at you like a perfectly thrown boomerang. For the Europeans, Australia is certainly an interesting economic partner. Germany, for example, imports gold and other precious metals from the faraway continent. Also wine and a lot of meat. In turn, the Australians rely on motor vehicles, pharmaceutical products and machines with the imprint "Made in Germany". According to the Bavarian Foreign Trade Center, the bilateral trade volume (goods plus services) was around 13 billion euros in 2016, with 85 percent going to Australia and only 15 percent going the other way.
As a global logistics service provider, DB Schenker is, of course, actively involved in the exchange of goods. Locally, the company was already present there in 1962 as a national organization. If one adds the branches in New Zealand, there are about 1,300 employees who work for DB Schenker in Down Under. They deal with land transport, sea and air freight or with complex logistics services in the warehouse. At the locations in Sydney, Melbourne, Perth and in 23 other cities, the logo of the globally active logistician shows on the fluttering flags.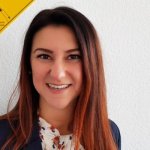 Demet Meditz, Manager Tradelane Development
"If a German customer wishes us to label goods in Adelaide, we do it."
Same logistics products as in Europe
"Ultimately, we offer German companies in Australia the same thing they get from us in Europe," says Demet Meditz. She is responsible for the development of the sea freight business on the Europe-Southeast Asia axis at DB Schenker, including South Korea, Australia and New Zealand. "If a customer wants us to label goods in Adelaide, then we do it. If requested, we can also stock sales-promoting displays for retailers in Brisbane." In Australia, DB Schenker also handles business-to-consumer transports: deliveries to the end customer for example for a fashion brand.
One of DB Schenker's major customers on the Germany-Australia route is a company that manufactures medical and care products. By sea freight, wound dressings, incontinence and other voluminous hygiene articles are on their way. DB Schenker also transports paper for all kinds of applications to Australia on behalf of its customers. By the way, Oceania's largest sea ports are in Sydney and Melbourne.
Round trip for the construction crane
For some sea freight transports, it is like a train ticket: the customer books round trip. How's that? "A German company delivers cranes to Australia," explains Meditz. "When the construction is completed, the equipment will go back to Europe in 40-foot containers." A single crane easily fills 10 of them, which the logistics company converts into 20 TEU.
"#Sea freight between Germany and #Australia. Construction cranes get a round trip ticket at DB #Schenker."

Tweet WhatsApp
And what the Australians really crave, Meditz knows, too: "In some of our logistics centers, we are in charge of the handling of fruit gums, chocolate and cookies." – Sometimes Australia logistics is a sweet business.
Contact
Demet Meditz
Manager Tradelane Development
South East Asia / South Korea / Australia / New Zealand
Schenker Deutschland AG
E-mail: demet.meditz@dbschenker.com