It ain't over till it's over — it's particularly true for exhibition logistics. When the exhibition closes, the great challenge of wrapping up begins: on millions of square feet, thousands of exhibitors dismantle and pack up their booths, loading them on forklifts and then trucks. And very soon there will be new trucks pulling up outside the gates because there's always another trade fair.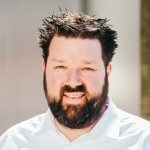 David Löhring, project head of Operative Trade Fair Systems / Special Transportation Operations, Schenker Deutschland AG
"The building and dismantling phases are extreme situations in trade fair operations."
Industry professionals will know that, due to the restrictions of the infrastructure, working conditions for building and dismantling booths can be very difficult—especially during major events. The additional costs for exhibitors arising from traffic jams and long waiting times can severely strain the relationship between exhibition organizers and customers. This is where DB Schenker's exhibition logistics experts come in with their innovative ideas. David Löhring: "During our many years as the logistics partner to major trade fair organizers in Germany and Europe, we have developed products and solutions that can contribute to the optimization of the flow of traffic and goods by controlling it in a coordinated and forward-looking way. This results in true win-win situations for all professional actors on the exhibition grounds."
Efficiency through coordination of all parties involved
The first step is understanding that process optimization in the context of building and dismantling booths is primarily a coordination challenge. Timo Maibach, Vice President Sales Fairs & Exhibitions Germany at DB Schenker, summarizes: "We understand that any trade fair is a joint project undertaken by everyone involved. As a logistics provider, we cannot act alone in optimizing the process. However, we are in a strategic position to make life easier for exhibition companies, carriers, suppliers, exhibitors, and booth builders on the ground with a long-term perspective. Providing digital services like our truck guidance system to our exhibition customers is one way of doing that. Other strategies involve activities in trade associations and workshops with trade fair organizers and trade fair construction contractors."
"Cooperation on the exhibition grounds. DB#Schenker truck guidance system coordinates transportation and resources for #ExhibitionLogistics."

Tweet WhatsApp
DB Schenker cooperates with leading German trade fair organizers as an official logistics partner. The portfolio includes powerful, connected IT systems and apps. Designed to optimize coordination in building and dismantling booths, they offer functions such as:
A truck guidance system
Accepting orders from the operative exhibition logistics system via app
Tracking all the way to the booth
A trade fair highlight: the truck guidance system
At many exhibition venues, the situation remains problematic: traffic flow is uneven and has pronounced peaks. Trucks are only tracked after they have arrived at the grounds. Traffic towards the venue is handled individually by an exhibition company or a transportation provider. All of this results in a complicated coordination process involving the carriers and other parties.
The DB Schenker truck guidance system is a web-based program for the early and centralized tracking and controlling of traffic flow during building and dismantling phases on exhibition grounds. For transportation, it provides a centralized communications solution for everyone involved in the logistics supply chain.
"Efficient #Exhibition #Logistics. DB#Schenker uses truck guidance system to optimize traffic flow on exhibition grounds."

Tweet WhatsApp
Services include:
Traffic flow tracking on the exhibition grounds with automatic vehicle notification and sign-in
Traffic flow control to provide an even distribution for predefined time windows and the space available
Logistics services control, for example job order management for forklift and transport traffic during exhibitions
Of course, this is very user-friendly. The carrier uses the web application to reserve a free time window. As a prerequisite for the confirmation of their reservation, they also place a binding order for the associated service at the same time. They will receive confirmations for both transactions. Printing the admission pass with a barcode is also done via the app. The benefits for the driver are obvious: they benefit from guaranteed loading area assignments for unloading and loading and reliable time slot assignments. The printout of the admission pass helps with navigation around the exhibition grounds.
Also, processes are managed more smoothly by the truck guidance system from the perspective of the trade fair organizers: the arrival of a scheduled vehicle is confirmed automatically by a barcode scanner at a truck control center outside the entrance. After verification and authorization, the truck can enter the grounds. Dispatch receives the authorization and dispatches whatever unloading assistance has been booked to arrive simultaneously with the truck at the assigned loading area. Another scan confirms the end of the unloading or loading process and notifies the truck control center that the loading area is free again. A flight monitor provides real-time traffic updates.
Numerous benefits make the truck guidance system a success. It evens out peaks in traffic toward the exhibition and provides a better distribution of resource usage throughout the grounds, which results in the optimization and increased efficiency of all work processes. Traffic volume on the exhibition grounds is now predictable and manageable. The documentation of all processes without exception facilitates troubleshooting and provides a basis for statistical evaluation and long-term planning.
Strategic benefits for trade fair organizers
The truck guidance system provides systematic benefits for everyone involved in exhibition operations. However, this innovative solution's benefits for trade fair organizers go far beyond operational optimization. Three aspects in short:
Long-term customer retention
All indirect activities circling around the actual trade fair presence, primarily encompassing the building and dismantling of booths, are important criteria for exhibitor satisfaction. In everyday operations, this particular aspect is a frequent cause for complaints and claims for contractual penalties. Each building block provided by the organizers that makes the building and dismantling processes easier and more reliable to plan and increases efficiency constitutes a major contribution to sustained customer loyalty on the part of the exhibitors towards the trade fair organizers.
Relief for surrounding city traffic
Not only exhibition grounds traffic is subject to congestion and significant delays. Particularly inner-city exhibition grounds severely impair traffic flow on access roads. This creates a difficult situation straining the important relationship between cities and exhibition companies, which is crucial for venues' long-term development. The truck guidance system has proven to relieve urban traffic in the area around the exhibition grounds. Its positive effects are evidenced by the development at Messe Berlin, which has been operating the truck guidance system with DB Schenker for several years.
Condensed development provides a chance for growth
Finally, the truck guidance system and traffic optimization are a crucial prerequisite for the growth of exhibition space at many trade fair venues. Major venues around the world are characterized by their location close to city centers. These sites can only expand their floor area by further developing their existing premises. However, this also means a loss of spaces reserved for traffic and logistics.
Only consistently optimized traffic flow control and an even more efficient use of logistic resources can compensate for the restrictions in space. This makes the use of the truck guidance system a strategically important growth factor for urban trade fair venues.
For more information, please contact:
Timo Maibach
Vice President Sales Fairs & Exhibitions Germany
Schenker Deutschland AG
E-mail: timo.maibach@dbschenker.com
Truck guidance system as a part of DB Schenkerfairs innovations
As the web-based truck guidance system impressively demonstrates, powerful IT is the safest bet for leading-edge exhibition logistics. DB Schenker continues to invest in existing and new IT. The guidance system outlined here is just one component of tomorrow's highly developed IT landscape.
Another important part of this exhibition logistics system is the web-based Globus app. Used from a tablet PC, it offers service and quality benefits, for example for more detailed job order types like empties vs. fulls or for equipment provision directly at the booth.
Another feature is tracking all the way to the booth. The app communicates directly with an essential digital service of DB Schenker exhibition logistics, the SM² forklift guidance system. It is used as a job dispatch tool and documents all exhibition handling processes electronically. It reduces the number of trips on the exhibition grounds, which in turn reduces waiting times for exhibitors and construction contractors. This makes SM² Germany's and Europe's leading forklift guidance system.