The healthcare market is strong: The OECD predicts a disproportional growth in the healthcare sector – for the next decades. One of the reasons: Both health economy and traditionally very strong German companies of the industry prove to be robust and nearly independent from the economic cycle. In fact, they are in all areas: from medical equipment to the classic pharmaceutical area up to over the counter (OTC) products.
Actually, countless providers are facing the challenge to keep up with the demand for products and healthcare logistics.
Logistics impulses for a booming industry
Product capacities are getting scarce at the locations of countless German medical technology and pharmaceutical manufacturers. They are especially lacking the space for new facilities.
Healthcare logistics partners such as DB Schenker offer solutions. This is also attested by Georg Maurer's experience, who is responsible for healthcare logistics for business development and solutions design at DB Schenker: "Logistics for medical equipment, accessories, and pharmaceuticals are currently developing very dynamically. Many manufacturers maintain big warehouses autonomously at their manufacturing locations. Outsourcing in combination with spacial relocation creates free capacities and, most importantly, free space."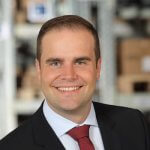 Georg Maurer, Head of Sales & Strategy, Schenker Deutschland AG
"Logistics for medical equipment, accessories, and pharmaceuticals are currently developing very dynamically."
According to the expert, who has been working in the area of healthcare logistics for decades, the manufacturers can use these for production increase. "This is an attractive development perspective, especially as the market is moving anyway. For next to long-time established specialty suppliers for healthcare logistics, big logistics providers with qualified solutions are active as well by now."
Quality strategies and reliable transparency are a must
Which means, the outsourcing strategy suggests itself – for further logistics tasks as well. This industry is very demanding, however. It is all about healthcare and even human lives. "Our contact partners in healthcare companies are extremely sensitive concerning all questions of quality and transparency," explains Georg Maurer. "The only people eligible to be service providers are people with relevant experience in the industry or at least longstanding experience in similar safety-oriented sectors, for example in the aeronautical industry."
Maurer indicates the importance of end-to-end-visibility concerning transparency. Comprehensible commodity flows are a prerequisite for guaranteeing drug safety – for example regarding the cold chain, in which service providers are carrying a great responsibility,too, according to Georg Maurer: "The goal is the protected delivery chain for drugs, but also for medical equipment and OTC products. We, as service providers, can only ensure the integrity and safety from counterfeits, if we can provide information on where and under which conditions a product was transported or stored at any point in time."
As you can see, tracking & tracing go far beyond the usual requirements for reliable organization in the area of healthcare.
Growing importance of healthcare by DB Schenker
To fulfill the high standards of the healthcare industry, DB Schenker employs a team of experts. The specialists surrounding Georg Maurer develop logistical solutions for companies within the healthcare sector. Their competence is complemented by the Vertical Markets Healthcare experts, including Michael Kuhn, global business development director for healthcare. Both spent many years working for leading European healthcare logistics specialty suppliers and use their experience to contribute to the nowadays clear growth of that area within DB Schenker.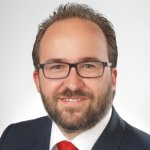 Michael Kuhn, Global Business Development Director, Schenker AG
"We are experienced in working within strictly regulated industries and with very high quality standards."
"DB Schenker actually has very good attributes for the healthcare business," explains Michael Kuhn. "We are experienced in working within strictly regulated industries and with very high quality standards. We have global competences in transport and storage logistics, with which we can optimally support globally active pharmaceutical and medical manufacturers in supply and distribution."
"The #healthcare sector is growing continuously. Outsourcing to a third-party logistics provider frees up new resources. #Healthcare #Logistics #Pharma"

Tweet WhatsApp
Portfolio and solution design concern the whole supply chain. "Moreover, we can efficiently depict almost every customer-specific requirement," says Kuhn. "We combine all that with suitable IT solutions that support the complete transparency and traceability of commodity flows."
Contact partners
Georg Maurer
Head of Sales & Strategy
Schenker Deutschland AG
E-Mail: georg.maurer@dbschenker.com
Michael Kuhn
Global Business Development Director Healthcare
Schenker AG
E-Mail: michael.kuhn@dbschenker.com