Since June 2017, Claus Freydag is Head of Ocean Freight at Schenker Deutschland AG. In an interview, he explains how DB Schenker responds to digitization and capacity bottlenecks and how he helps customers with consulting.
logistik aktuell: Mr Freydag, the disruptive potential of digitization has long since arrived in ocean freight. Startups, platforms and IT-based business models are confusing the market. Why does a shipper still need a logistics service provider?
Claus Freydag: I believe that the complexity of logistics processes and the global flow of goods with their many players cannot be fully illustrated by internet-driven solutions and algorithms. Therefore, a logistics service provider will remain important. We provide a global network and the staff who intervene in case of difficulties and problems. But digitization is the important topic – a lot is going on. Autonomous shipping is an exciting topic for example. Or the blockchain: The process could help to exchange and process legal and contractual information with incredible speed. Digitization puts us under pressure as a service provider. But I see that positively, because there is more transparency in the market. We have to deal with that and see how we can use transparency to our advantage.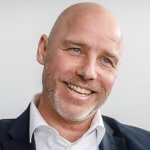 Claus Freydag
"DB Schenker is bursting with ideas and positive approaches when it comes to realignment. Digitization in particular has brought about many exciting developments."
The Port of Hamburg is testing the 5G mobile communications standard, which serves as the basis for the new digital tools of the future. In the near future, when the ship arrives at the port, the containers could independently contact the customer and organize their own further transport. What do you think of such ideas?
This vision is certainly realistic. The only question is how fast that can be done. At the moment, I cannot imagine that the many different actors of a supply chain participate in the necessary data exchange as it would be required. But the technological developments of the last decades have shown that sometimes it happens faster than expected.
What are the biggest problems in ocean freight at present – and how does DB Schenker respond to them?
The big problem these days are capacity bottlenecks. On the one hand, the ship's hold: Today, it's getting tight on the ships, especially in the Peak Seasons. In addition, however, capacities are often limited in domestic terminals, for example when picking up goods by trucks: Currently, Germany is lacking many thousands of drivers lacking. We respond differently to these bottlenecks. Regarding freight space and rates, we rely on several reliable shipping partners in our carrier policy to remain as independent as possible. This way, we can act neutrally and successfully.
Customers can reduce dependency on shipping companies and fixed departures by planning better and booking more reliably. This applies to both small and large customers alike and helps us to achieve a corresponding value for shipping companies.
How do the customers react?
We inform our customers about such market conditions and then develop solutions together. For example, in 2017 customs clearance in the Port of Hamburg led to considerable delays, thus, Wilhelmshaven sometimes served as an alternative port. In the event of capacity bottlenecks through drivers, we discuss alternative delivery times with our customers. There are many right answers to all these questions, but we cannot do it on our own. Today, many customers are open for more planning. We accompany and convince them that a holistic view of the entire supply chain offers merely advantages. Unfortunately, customers who tend to be price-driven often lose sight of the big picture and, thereby, of the potentials of logistics.
So you act as a consultant?
Yes, this has a lot to do with communication and also with the willingness of customers to recognize and reduce weak points. We benefit from the fact that we have very long-term customer relationships. Many small and medium-sized companies as well as large corporations of all sectors value us as a reliable and efficient service provider and appreciate us by being loyal.
"Ocean Freight is fun: #Schenker Deutschland AG Ocean Freight boss Claus Freydag in an interview on #digitization and capacities in the cargo hold."

Tweet WhatsApp
You have been with DB Schenker for more than a year. Why did you switch to this logistics company?
I came to DB Schenker when I noticed that the company was undergoing an exciting change. In the top management, a change of generations took place. The company is bursting with ideas and positive approaches when it comes to realignment. Digitization in particular has brought about many exciting developments. This special dynamic of the company and its future orientation appealed to me.
And your own passion for seafaring?
I'm a typical boy from Hamburg. I always felt a connection to the port. As a child, I often went to the Elbe with my parents and grandparents. The atmosphere and the ships fascinated me a lot. And that was ultimately the driving force for my training as a forwarding agent.
Thank you for your time!
You are welcome.