"Global companies are working with global companies," says Thomas Ruelke, chief commercial officer, Schenker Middle East FZE. "For us as a logistics provider, this means showing a presence wherever the customers are." Ruelke is responsible for business development in the Middle East and Africa.
Let's take a look at the northeast of this region. It starts at the top right on the map of Africa with Egypt and then extends over Sudan, Eritrea, Ethiopia, Uganda, Rwanda. And of course Kenya. In the capital Nairobi, the logistics company founded its own national company in 1966. Initially, it was mainly about airfreight, followed in 1971 by a sea-freight department.
African Growth and Opportunity Act (AGOA)
East Africa represents a real economic factor. Since 2004, the countries of the region have recorded annual growth rates of 5 percent. This is also due to the fact that the overall political situation is improving and the willingness of foreign companies to invest is increasing. One reason for this is the African Growth and Opportunity Act (AGOA). It dates back to the time of US President Bill Clinton and grants duty-free access to the US market to around 40 sub-Saharan countries.
Since the entry into force of the agreement, the textile industry in Africa is thriving. Experts predict that exports to the US – the world's largest textile market – will rise to $ 4 billion annually by 2025 (€ 3.4 billion). In Africa, AGOA has created 300,000 jobs. In January 2018, the "Heimtextil" trade fair in Frankfurt talked about the continent becoming the new China. More and more suppliers are relocating their production there and supplying the department stores and shops in California, New York and Florida duty-free. "I recently visited a company in Ethiopia that has huge halls where over 3,000 seamstresses produce high-quality textile products," says Ruelke. "There are quite a few such factories in the region. Baby bibs and jumpsuits for US retail giants are produced in Addis Ababa under controlled working conditions. "
DB Schenker: Transportation and Logistics in Kenya & Co.
The textile industry is just one of many industries that is booming in East Africa. The energy sector and the food industry are growing along with the service sector. For a global logistics company, this buoyant economic activity results in a promising market with coveted orders: raw materials, machinery and equipment from Asia and Europe are travelling to Africa.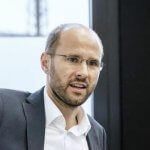 Thomas Ruelke, CCO, Middle East and Africa
"Logistics is a key to success in East Africa."
What the plants produce goes to the consumer via warehouse and retail. Or to a processor. Literally in between: DB Schenker as a logistics service provider who manages land, air and sea transport, manages warehouses and performs various activities such as consolidation and packaging in contract logistics. The office in Nairobi is open 24 hours on 365 days. Because there are a number of sensitive or perishable goods that do not tolerate waiting times. This is true, for example, for fresh fruits and cut flowers.
Shampoo in Egypt
DB Schenker brings consumer goods from all over the world to East Africa. Smartphones, washing machines and refrigerators are just as popular in Cairo or Kampala as in Copenhagen or Lima. "There is a European manufacturer that produces shampoo, conditioners and other cosmetics in Egypt," says Ruelke. "For him, we operate near the factory a warehouse that supplies, among other regions, the East African market."
An important transhipment point for the region is Mombasa with the only deep-sea port of Kenya. Its annual capacity is 1.2 million 20-foot standard containers (TEU). This corresponds to 15 percent of Hamburg's output and makes Mombasa the largest port in East Africa. From there, DB Schenker handles import and export traffic between Africa and the rest of the world. Neighboring countries connecting to the sea use small feeder vessels – such as the United Arab Emirates, Oman, Sudan and Djibouti, or further south Tanzania and Mozambique. Those who have no access to the sea, like Uganda and Rwanda, are supplied by road. For example with a truck organized by DB Schenker.
Oil deposits in Uganda
"When I tell people in Germany that I travelled to Uganda or Rwanda, people look as if they were sorry for me," says Ruelke. "The times of the worst news from these countries are over. In Uganda and Rwanda the economy is growing. Although the political conditions do not meet EU standards, they still have improved. "
"# East Africa offers more than safari and holidays. DB #Schenker will take on the responsibility there for #transport and #logistics for global players."

Tweet WhatsApp
Another pillar of the boom is the mineral wealth. The discovery of a huge oil field in Uganda results in the construction of production facilities and the construction of a pipeline and refinery. This is always an opportunity for logisticians. The famous advertising slogan of a mineral oil company from the 70s and 80s was: "There is much to do. Let's tackle it. "- One could have come up with this line for East Africa.
Contact
Thomas Ruelke
CCO Middle East & Africa
E-Mail: thomas.ruelke@dbschenker.com