Taking predictive analytics a step further, that is anticipatory logistics or anticipatory logistics. Still, the concept of this promising AI application is often more theory than practice. But it has great potential to make the supply chain faster, more flexible and at the same time more robust. We explain what is meant by the terms and where the fields of application are in logistics. Is it possible to anticipate the future with anticipatory logistics? At least, anticipatory logistics could steer a fully simulated supply chain and would always be ahead of the present by a simulated future.
Was ist Predictive Analytics?
The aim of Predictive Analytics is to provide information about the probable future (partial) state of this system by means of quantitative and qualitative sufficient direct and indirect system data and suitable data analysis methods. This is usually done in a data model, which can then simulate future states of the system. The system can be a factory or a machine park, or – in the case of logistics – it can also be a warehouse or even an entire supply chain.
Predictive analytics is thus a predictive method based on large-scale analytics (data mining) and their use in data models. At the same time, the self-learning algorithms are able to create more and more reliable simulations. For the very computationally intensive simulations and models, predictive analytics requires powerful computer systems. That's why Predictive Analytics is considered a particularly promising application for Artificial Intelligence (AI).
What is Predictive Analytics?
Taking it one step further, you will leave the pure analysis level behind and derive therefrom an action level. Then, you not only look at possible future system states, but you also undertake concrete actions that will change the calculated forecasts in the direction of a desired state. So you act in a forward-looking and anticipatory way – using computer-generated future models of the system as a basis and decision support. In logistics, these are still called very new possibilities of digitization, anticipatory logistics or predictive logistics.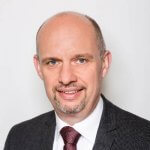 Thomas Reppahn, Head of Central Logistics Product and Process Management at Schenker Deutschland AG
"You should know that simulation-based planning is one of the big goals of digitization."
An example: The online retailer Amazon wants to shorten the shipping time with its patented "Anticipatory Shipping". In this case, the products are to be shipped to a warehouse near the home of the respective customer before actually making a purchase. The decision-making basis for this anticipated shipping is provided by various data analyzes from which an increased probability of specific product purchases can be derived from specific customers.
We talked to Thomas Reppahn, Head of Central Logistics Product and Process Management at Schenker Deutschland AG, about anticipatory logistics: "It's important to know that simulation-based planning is one of the major goals of digitization, and not just for logistics, but for all industries. When we are ready to anticipate and control entire supply chains, the digitization of business processes is almost complete. But there is still a long way to go – for all companies in the world. However, we at DB Schenker are also well on the way. An application example for simulation-based planning is our Decision Support Tool. "
The Decision Support Tool has been used at individual warehouse locations since 2016 to simulate daily scheduling, which can then be iteratively optimized by management. The simulation of processes in a warehouse is, of course, more manageable than the simulation of an entire supply chain, but it is very well suited for initial experience in the area of simulation-based planning.
Fields of application in logistics: Maintenance Logistics and Supply Chain Risk Management
Beyond online trading and warehouse management, there are also many fields of application for anticipatory logistics. Thus, with the data of predictive maintenance also the supply chain of the wear and spare parts needed for the maintenance can be considerably accelerated. Allocated parts logistics can deliver the required replacement to the machine prior to actual maintenance or expected wear part failure, significantly reducing downtime – whether as a physical delivery or as a timely order of the print job queued on the local 3D printer. However, the prerequisite is that the spare parts logistics provider is involved in the predictive maintenance process. For this purpose, a platform for secure data exchange between companies must be created, as is the goal in the "Industrial Data Space".
The entire supply chain risk management, too, can be anticipated. For example, live data from the supply chain, which, for example, provide tracking sensors on the condition of the transported goods, or traffic reports, can be incorporated into the data models. Countermeasures and alternatives can be taken in the event of expected risks for goods or delays in order to make the supply chain more robust.
"#Artificial intelligence and #PredictiveAnalytics make anticipatory logistics the designer of the future."

Tweet WhatsApp
The application possibilities for anticipatory logistics are almost unlimited, because they continue to grow with the degree of penetration of digitization. However, anticipatory logistics is still at the very beginning of its implementation in ongoing business processes. It can be understood as the goal of a mature digitalization of the industry rather than another step in that direction.