Although it seems as if there was only a difference in gradation, the difference between Semi Knocked Down (SKD) and Completely Knocked Down (CKD) is more than that. In the first case, new vehicles are partially disassembled, in the other case, they are not even built. At least not in the country of dispatch. DB Schenker practices SKD in Düsseldorf and CKD a few kilometers down the Rhine in Duisburg.
High customs duties on roadworthy vehicles
In order to understand what the contract logistics company is doing there, let us imagine an automobile manufacturer (OEM) from Germany. He wants to sell his car built here on a faraway continent. "Nothing easier than that," says the logistics expert, and he drives up onto the overseas ship, and a few weeks later, the car rolls down again and the transfer is done. – That really works and it's done. In some cases. But there is an authority between export and import that severely restricts free trade: customs. Worldwide, ready-to-use cars are subject to a significantly higher import tax than auto parts unfit to drive. Why? Because the receiving states are interested in doing value-adding activities in their own countries. That creates jobs.
That's where SKD comes into play: Semi Knocked Down. Cars or vans leave the German factory in a roadworthy way. In order to avoid high duties, they get dismantled to a certain degree ("semi"). Sounds weird: As if you had finally put together a 2,000-piece puzzle of the north wall of the Eiger up to the last bit, only to deliberately take away large parts out of the finished picture.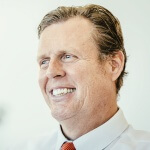 Joachim Stern, Managing Director Rhein Logsitik
"On customer request, we disassemble seats, steering wheel, powertrain and other components."
Like a kit, the fuselage car and its disassembled parts are exported. "At SKD, we remove parts from vehicles so that they no longer fulfill their original purpose," explains Joachim Stern, Managing Director of Rhein Logistik. "For example, seats, steering wheel or the powertrain." As a rule of thumb, the more the assembly team has to do in the receiving country, the less the customs office demands. When missing only a spark plug, the authorities show little enthusiasm. But if every single vehicle in the importing country takes another 10 hours of work, that's something. Joachim Stern gives a realistic example: "With an SKD concept, the duties can be lowered from 20 to 10 percent." With a market price of 40,000 euros per car, this definitely pays off.
Bei Personenkraftwagen lohnt sich SKD solange, wie die Verkaufszahlen im Zielland überschaubar bleiben. Brancheninsider sprechen von maximal 60.000 Stück im Jahr. Bei Nutzfahrzeugen sind es deutlich weniger. Aber ganz gleich, welcher Fahrzeugtyp: Ab einem bestimmten Verkaufserfolg kann ein anderes Konzept lukrativer sein. Womit wir bei CKD angelangt sind – Completely Knocked Down.
For passenger cars, SKD pays off as long as the sales figures in the destination country remain manageable. Industry insiders speak of a maximum of 60,000 pieces per year. For commercial vehicles, it is much less. But no matter which vehicle type: Depending on the commercial success, another concept can be more lucrative. Which brings us to CKD – Completely Knocked Down.
"SKD smells of oil, CKD of packaging"
A CDK vehicle does actually not exist. Because here we are talking about things that have never been cars prior to export. The manufacturer orders from the original supplier all the parts for a car which is then assembled in the destination country. Unloading point: a CKD consolidation center, as DB Schenker maintains it [fort Daimler] in Duisburg harbor. The inexperienced visitor does not immediately realize that only parts of the vehicle get delivered here, securely packaged and sent on their journey in 40-foot containers. It looks more or less like any other logistics center: small parts, large parts, lots of forklift traffic.
By contrast, finished vehicles arrive in an SKD warehouse and are made unfit for use piece by piece. That's why DB Schenker's SKD location in Düsseldorf is strongly reminiscent of an oversized workshop. "It smells of oil and car in an SKD plant, but of crates and other packaging in a CKD plant," says Joachim Stern.
Build suppliers gradually
The question remains: Why do German car manufacturers not build their vehicles right away in China, India, the USA, Brazil and wherever the car market is booming? "There are many reasons," says Michael Funke, head of the Duisburg site. "The most important thing is that manufacturers need certified suppliers for each model, who deliver the components in the required quality with pinpoint accuracy." Such companies do not grow on trees.
"Vehicles in kit form. In #contract logistics, this means #CKD and #SKD."

Tweet WhatsApp
If an OEM starts his export business via SKD, he only needs a reliable assembly line in the destination country, but no suppliers based there. This facilitates the market entry. Even with CKD nothing changes in the supplier structure. All parts arrive by ship. But the destination country is taking over more and more installation services. If the model is a success, the manufacturer's desire to build its own supplier industry in the destination country increases. It often starts with the large and sensitive components, whose sea transport is particularly costly. A typical example is the body. Other parts are added successively. This is how suppliers are built up and fewer and fewer parts from Europe are needed. At the end of a successful CKD project there is – not always, but often – a plant in the target market, which autonomously procures its parts from the domestic market.