Christian Rauch, Managing Director of the Zukunftsinstitut (Future Institute) based in Frankfurt, is working with his team on the megatrends of the future. In an interview with logistik aktuell, he explains the megatrend map and provides an insight into the changing mobility.
logistik aktuell: When we talk about the future, what exactly are we talking about?
Christian Rauch: There is no simple definition of the future. But there is a collective understanding of the future: everything that lies ahead is called the future. To put it a little philosophically, the future has always started somewhere. In other parts of the world, some things are already reality, which are hardly conceivable in this country or are only gradually gaining ground – and vice versa.
In the Zukunftsinstitut we usually look at medium to long-term periods – meaning between three and five years and between five and ten years. In addition, predictions become vague and out of focus. When we talk about the future around 2050, we usually describe the way and the development until then. But we are not to be confused with trend researchers, for example in the field of fashion. They think more seasonal and short term. That's not our job.
As a future institute you developed the megatrend map. What exactly is that?
The megatrend map depicts a total of 12 key megatrends and identifies over 120 trend terms that are assigned to megatrends. At the same time, we want to use the overview map to show how the megatrends are related, where there are parallels and overlaps. We collect trends and zeitgeist phenomena and see what connects them. The development of the map is a collaborative process, involving the researchers of the Zukunftsinstitut and other experts, our study results as well as experiences from projects with clients – if you like, through collective intelligence. In the end, it's about visualizing and translating the narrative.
One important megatrend is mobility. What do you mean by that?
When we talk about mobility, it's not just about physical mobility. Mobility is to be seen in the sense of transport, traffic, but also as the basic motive of our society. For example, we consume and work in a mobile way. As a result, the so-called "third places" are becoming increasingly important. These are the places of transit, such as train stations and airports, where we experience networking through consumption, connectivity, internationality and globality. However, mobility is also what we consider on a global scale, for example transport logistics and tourism. It's a megatrend that cannot be overlooked.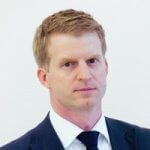 Christian Rauch
"Megatrends such as individualization, connectivity, urbanization and neo-ecology determine the mobility of tomorrow."
In the Zukunftsinstitut, why do you no longer distinguish between city and country when it comes to mobility?
We notice this in our analyzes: The dichotomous distinction between city and country does not help us where we live. Where does the city, the province, the country start? We try to think in new categories. For example, we define the condensed spaces: inner-city locations, spatial densification, junctions – where consumption takes place, where the car does not have to be a central means of transportation. Linked spaces, on the other hand, are the connections between pre-urban areas and cities, which form regional catchment areas far beyond the immediate surroundings. To give just one last example, lined spaces are axes between cities that, thanks to fast, high – frequency connections, often represent daily commuter distances despite considerable distances, for example Cologne – Frankfurt, Wolfsburg – Berlin.
If you think about spatial structures, you must not only think about the problem of the "last mile", but include different spatial structures.
As a Zukunftsinstitut, how do you advise companies and institutions on the future of mobility?
We tell companies that if they want to get their projects to the market, they have to have a look at the borderline. We need a new way of thinking, new network partners, an understanding that one must not think only in individual modes of transport. The municipal transport companies are also beginning to rethink, away from vascular solutions, towards an interface policy. Mayors are sometimes the bigger levers than federal politics or automobile companies. The users are in parts more advanced than we think: car sharing is perceived by the user as positive, cargobike and bicycle mobility are very well received in urban areas.
Autonomous driving is a trend that is repeatedly mentioned. What is the development here from the perspective of futurology?
We are already pretty close to breakthroughs in the market. That's not surprising. For years we have had digital applications and tools that have led to greater autonomy in mobility. Cars now park themselves by parking aid, autonomous cruise control – much has reality become a reality. The idea that all cars drive autonomously, as they do in science fiction films – that is certainly not how it works.
What are the challenges and visions in the field of autonomous driving?
So far, the exception situations are still the problem. Therefore, much more needs to be simulated. It will take a while before we will see autonomous vehicles on a larger scale. For businesses, there will certainly be faster application solutions (link), especially in rural areas, where we maintain a costly system in public transport. Smaller vehicles driving autonomously are a solution. But a broad application will certainly take another five to ten years.
In urban areas, in the context of electromobility, it will come to the point where vehicles drive independently to the charging stations. Free parking in the city center might not be allowed at all anymore. We have to think of many technical requirements, only then the picture of autonomous driving will become more concrete and realistic. For a long time, autonomous driving was almost exclusively about comfort, but much more exciting is the topic of increasing safety for road users.
"Christian Rauch from @zi_news (Future Institute) in an interview with DB #Schenker: "Away from vascular solutions, towards an interface policy"

Tweet WhatsApp
Considering the current development, could we call it a revolution in mobility?
I think it will be more of an evolution of mobility. Things like electromobility and hydrogen propulsion have been in discussion for a long time. It feels radical right now, but we have to start thinking of new business models. City planners, for example, need to cooperate even more with the private sector. Consumers' consumption patterns are not changing overnight. We have to take a smart approach.
What are the concrete tasks that the Zukunftsinstitut carries out for companies and organizations?
What we experience is that companies seek and get a lot of input.
We are neither the classic market researcher nor the typical business consultant. We try to work very profoundly with companies to provide strategic and intellectual assistance. We focus on the big picture. We realize there is an enormous need to understand change, to find new answers. For us, it's not about setting the future, but about describing lines of development. Each company has to find its own answers.
Thanks for the interview, Mr. Rauch!