In Namibia, tourism represents the second most important sector of the economy, just behind mining. Every year, around 1.6 million people visit the country in South-West Africa. Popular destinations are the sites of natural beauty, particularly the Etosha National Park in the north.
Anyone looking forward to a refreshing beer in the evening after a sweaty tour through the wilderness won't be disappointed – a glass full of locally-produced goodness is already waiting on tap. Namibia has cultivated its own distinctive brewing tradition for more than a century now. The barley beverage is still produced there in line with the German beer purity laws of 1516.
Specialties from Germany, Denmark and the Netherlands
Europe makes a considerable contribution toward to the South-West African enjoyment of beer in terms of the raw ingredients. While there is good barley to be found in Namibia, the brewers leave the malting to the Germans, Danes and Dutch. Every year, DB Schenker imports hundreds of sea containers filled with malt.
And what about the hops? That comes from Germany too – in the form of pellets stored in refrigerated containers known as reefers. They keep the precious commodity chilled to around 5 degrees Celsius.
A significant portion of the beer produced is exported. While most is sent to Tanzania on the southeastern side of Africa, these golden yellow "Made in Namibia" specialties also head off further afield to other continents. The art of brewing found in Windhoek and the surrounding area is highly regarded in Australia, China and England.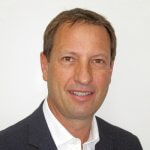 Christoph Scholz, Managing Director Namibia, DB Schenker
"We can manage all the transport and logistics needs of the Namibian economy."
Goods in demand: fish, diamonds, ores and metals
The world is also keen on the products of two other industries belonging to the Namibian economy – first and foremost, its fishing industry: Seafood from the southern Atlantic is a highly sought-after specialty. Namibia is one of the world's five biggest fishing nations, with horse mackerel and hake being its most common catches. Favorable customs agreements give Namibia a price advantage of around 15 percent compared to other export-friendly fishing nations such as Iceland, Norway, Russia and New Zealand.
The other backbone of the economy is mining: Namibia exports huge quantities of diamonds and uranium ore as well as gold, silver, copper and other metals. Untapped offshore sources contain 2 to 4.5 trillion cubic meters of natural gas.
A Namibian subsidiary
DB Schenker is heavily involved in the transport of goods to and from Namibia. Its customers include two of the country's largest fish catchers and processors as well as an internationally- operating producer of graphite.
Since 2012, the logistics provider has had its own subsidiary in Namibia itself, with Christoph Scholz taking over the management in 2016. Born in Namibia, Christoph Scholz and his team organize everything that the Namibian economy needs in terms of transport and logistics. DB Schenker handles shipments of freight by land, air and sea as well as orders relating to contract logistics. "When it comes to warehousing, we use our facilities in South Africa," says Scholz. DB Schenker operates a consolidation warehouse in Johannesburg in order to cost-effectively combine individual batches to be sent to Namibia.
"Each year 100s of sea containers travel from Europe to #Namibia whose contents fall into the category #typicallygerman."

Tweet WhatsApp
The central hub: Walvis Bay
The vast majority of the sea freight goes through the deep-sea port (12.8 meters) at Walvis Bay. With 60,000 inhabitants, it is the third largest city in the country. Windhoek lies 400 kilometers away and shipments to the hinterland are undertaken by rail or using DB Schenker trucks. And if you're in a hurry: Walvis Bay International Airport is located 15 kilometers from the city center.
Contact
Christoph Scholz
Managing Director Namibia, DB Schenker
E-mail: christoph.scholz@dbschenker.com