Online trade in pharmaceutical products is booming – in Germany, almost every second Internet user orders medication online. However, these products place high demands on logisticians. Because in the market it is all about fast and flexible solutions. Also, it is important to meet high safety requirements.
That's why DB Schenker is particularly proud of a partnership: the logistics provider designed an automated warehousing solution for the Swedish online pharmacy Apohem. "This automation makes a perfect fit for Apohem," says Anders Holmberg, Head of Business Development & Solution Design at DB Schenker Sweden. "It's a company with a large number of products and mostly small jobs that are extremely time-critical. Automation also enables us to better handle sales peaks that are becoming more common in all e-commerce sales campaigns. "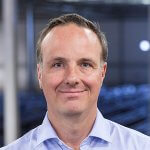 Anders Holmberg, DB Schenker
"Automation enables us to better handle sales peaks that are becoming more common in all e-commerce sales campaigns."
There are some large companies behind Apohem: Axfood is the second largest Swedish food retailer. Novax is an investment company. In addition, the e-commerce contractors are behind the multi-award-winning online retailer LensOn. "Apohem's vision is to become Sweden's leading online pharmacy," said Johan Bergenheim, acting CEO of the company. "With low prices, fast and safe delivery, and soon the sale of prescription medicines, we are creating the conditions for a unique customer experience."
Apohem is located in the Swedish capital Stockholm. The company has had a pharmacy license since December 2018 to distribute prescription medicines.
In e-commerce, it's all about time!
The automated warehouse management solution from DB Schenker is ideal for Apohem. Instead of a standardized rack storage solution, it offers a more effective picking and packaging process. In addition, the dealer intends to serve customers faster than if they visited a stationary pharmacy.
Thanks to robots, the packaging and picking process is two to three times more efficient than in traditional warehouse management. The solution also allows Apohem customers to submit drug prescriptions. After checking the prescriptions by qualified personnel, the medicines are sent to the customers.
With its automation, DB Schenker offers a flexible use of storage racks. This allows a variety of customers to be served under one roof and automated and traditional picking and packing can be combined for individual customers whose product portfolios include both small and large products.
Automated Solution from Swisslog
For a long time, DB Schenker has been using an automated warehouse management solution from Swisslog at the Arlandastad logistics center near Stockholm. The special thing about it is that the staff does not have to pick shipments from the shelves of the warehouse anymore. Instead, entire rack sections are moved to the packing stations. This increases productivity, saves space, minimizes the risk of errors and slightly increases capacity when demand is particularly high.
"e-commerce of medicines and pharmaceutical products presents logisticians with particular challenges: #DBSchenker realizes a particular solution for the Swedish online pharmacy #Apohem "

Tweet WhatsApp
In this way, DB Schenker offers customers in the time-sensitive e-commerce business the ability to quickly and flexibly adapt the deliveries of even small shipments to rising or falling demand.