What's the best way to arrive in Germany as a new employee from abroad? For relocation managers like Bettina Stamm-Müller, that's a crucial question. And she knows the perfect answer: "It's best to smile and say: 'Hello, I'm new here.'"
She learnt this from an Indian who participated in one of her workshops. His experience: When you mumble this sentence in a somewhat understandable German, you receive a friendly welcome. Whether at work or in public offices, whether in the supermarket or at a ticket vending machine: Germans like it, when you try to say something in their language. They like friendly people, they are cosmopolitan and helpful.
However, if you really want to get settled in the Federal Republic, it is not done with just a smart line. More and more companies are recruiting skilled workers abroad, who then face many challenges. DB Schenker brings together IT specialists from India, sea and air freight experts from Singapore and logistics specialists from Shanghai. "Especially in the Asian region, our company recruits indispensable reinforcement," says Stamm-Müller. She has worked for DB Schenker for almost three decades, including 8 years in Relocation Management, for which there has been a separate department since 2014.
Starting point for new employees from far away
Before people can apply their professional expertise to their new professional lives, they must arrive in their new home and get oriented. This is exactly why DB Schenker founded Relocation Management: a point of contact for newcomers who need to enroll their kids in elementary school, who are looking for a place to live and who have a lot of official bureaucracy to deal with.
Relocation management begins long before anyone signs an employment contract and packs their bags in their home country. Often the courted employees along with their partner or families are invited on a multi-day taster tour around Germany. They get to know their new workplace, and they get an idea of how the people in Düsseldorf, Frankfurt and Hamburg tick – or wherever they might settle later. "For many, we are something like the first friends in the foreign country," says Stamm-Müller.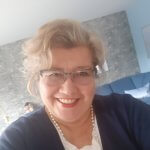 Bettina Stamm-Müller, Relocation Manager, DB Schenker
"It's best to smile and say: 'Hello, I'm new here.'"
The individual care takes about six months. There are about 100 people per year who receive help facing big and small challenges. There is above all the search for a fully furnished apartment. "Most people move without their furniture. They are looking for something affordable, if possible centrally located ", sums up Stamm-Müller. First, you have to find something suitable. Then the power supply gets set up. And how does the monthly ticket for the bus actually work? Anyone who finds himself at a closed store on Sundays soon realizes that shopping on the seventh day in Germany is tricky. Different countries, different opening hours.
In the weeks following the move, the actual familiarization follows, at the end of which relocation management is less and less in demand and gradually disengages. At some point, the new ones got used to their environment and say: I have arrived.
Getting used to DB Schenker and Germany
Because that is the goal: to receive the new employees in such a way that they stay for years or forever. Some change from another DB Schenker location to Germany and are at least familiar with the corporate culture. Others have not had any contact with our company. You have to get used to both DB Schenker and Germany. "We also undertake relocation management on behalf of other companies," says Stamm-Müller. "It does not matter what they do professionally. We focus our attention mainly on cultural integration. "The wishes, demands and concerns of bankers, IT specialists and logistics providers are identical. And sometimes a little too ambitious. Stamm-Müller speaks in this context of Expectation Management: "The expectations on Germany as a wealthy country are immensely high." It is not uncommon that Stamm-Müller has to relativize the ideas of new employees.
"#Relocation Management of DB #Schenker helps foreign professionals to get settled in their new home."

Tweet WhatsApp
"Relocation management, as we understand it, is always personal," says Stamm-Müller. The staff of her team call several nurseries to find a place, they organize first lessons in the music school and sometimes help apply for kindergarten or school.
Important Assistance: Cultural Awareness Workshops
In addition to the individual services, there are the Cultural Awareness Workshops with up to 20 newcomers of all kinds of nationalities. You can exchange experiences, compare the new with the old home and familiarize yourself with German customs such as carnival and Christmas markets. One or the other event needs some getting used to. But that's precisely what relocation management is all about.
Contact:
Bettina Stamm-Müller
bettina.stamm-mueller@dbschenker.com
What about you – would you go abroad for a longer period of time for your company?
DB Schenker at transport logistic in Munich
June 4-7 – Hall B6, Booth 209/310