In recent years, the start-up scene has also established itself in the field of logistics. With more than 2.9 million employees and a turnover of around EUR 240 billion, the logistics industry is one of the largest economic sectors in Germany. Germany is considered a logistics world champion. The market offers young and innovative start-ups enormous potential.
Many start-ups are dealing with the challenges regarding the future of logistics. The business areas in which most successful start-ups operate are transport, supply chain management, intralogistics, services, last-mile delivery and HR topics.
Start-ups as a source of inspiration
Whether they are partners or competitors, many start-ups are one thing above all: a driving force and, in many ways, an opportunity for established small-sized businesses as well as for larger companies. Start-ups are changing the face of logistics. With their disruptive business models, they are regarded as pioneers in the field of digitization within logistics. They are fast and agile. Both properties are beneficial for innovation and progress in a digital world.
Whether or not start-ups are successful depends on the USP rather than some extraordinary idea. Anyone who manages to close gaps in the logistics supply chain can quickly achieve great success.
DB Schenker with its own venture capital fund
DB Schenker is already cooperating with more than 50 start-ups. In addition, it has set up its own venture capital fund and invests specifically in start-ups, such as in what3words, a geo-referencing system for locations. "Logistics start-ups are in the fast lane, but many of the established logistics players can keep up with their digital & innovative solutions. We are in an intensive exchange of ideas with the start-ups on all levels and regard each other as an important sparring partner," says Mark Schuster, Senior Manager Digital Products & Strategy Air Freight at Schenker Deutschland AG.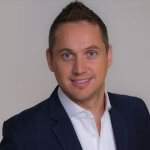 Mark Schuster, Schenker Deutschland AG
"We are in an intensive exchange of ideas with the start-ups on all levels and regard each other as an important sparring Partner."
Who are they and where do they come from?
Start-ups are also deliberately promoted in Germany. At German universities, too, there is an intensive debate on the topic of logistics 4.0.The established logistics accelerator programs include the Next Logistics Accelerator, the Digital Hub Logistics of the Fraunhofer IML in Dortmund, but also the research funding of the Bundesvereinigung Logistik. Congress formats such as the 2nd Digital Logistics Award in the context of the "Future Congress Logistics" also provide impulses for the start-up scene.
"Start-ups in the logistics industry: partners, competitors or driving force? #innovation #digitization #startup db # schenker"

Tweet WhatsApp
The current and most successful start-ups are regularly presented by the Bundesvereinigung Logistik (BVL) on their website under the heading Startups` Corner.
How do you view the start-up scene in the logistics market?