Today, servomotors make it easier for us to drive cars. In a few years' time exoskeletons will be strapped on to do physically demanding work. Especially when it comes to the repeated lifting of heavy loads, the servomotors of the supporting 'outer skeleton' offer real relief. 'Maloche 4.0', so to say: thanks to the latest sensor and actuator technology, heavy work becomes much easier and more back-friendly. Application scenarios in the industry and warehouse logistics are very promising and would lead to fewer illness-related failures of the workforce, as well as to a more pleasant and healthier work routine, especially for older employees.
Exoskeletons are a type of robotic suit that registers body motion and amplifies it with servomotors (just as power steering aids in steering). At the same time, the mechanical joints and the support structure, like an orthosis, relieve the joints and bones of the user.
In films, exoskeletons are often portrayed as martial-futuristic. There they give the wearer superpowers. But the real implementations are far from it, but all the more suitable for everyday use. Modern exoskeletons are better thought of as a power steering gear than a robotic suit that provides superpowers.
In fact, the human-machine interaction when wearing an exoskeleton is very direct, even too direct to many people at first glance. But are we really becoming cyborgs just because we're strapping on a tool instead of sitting in it?
Have you ever driven a car without power steering? Do you still remember what that feels like? Every parking maneuver tugs at the arm muscles. A modern truck would not be able to maneuver at all without the support of the auxiliary engines. Likewise, the brake booster amplifies the braking action of the driver. For decades now, we have had a very close human-machine interaction with our cars, which is being further reinforced by ever-changing assistance systems (ABS, ESP, etc.), and which we willingly embrace. Or do you know a car driver who would voluntarily give up his power steering? But it doesn't make him a cyborg.
Although the comparison with the power steering disenchanted, for years, exoskeletons have produced much good, especially in the medical field: In 2012, Claire Lomas, paraplegic since a riding accident, managed with the help of an exoskeleton the London Marathon in 27 days. In the summer of 2018, Simon Bartley did it in only 36 hours. Exoskeletons for paraplegics are now so mature that in summer 2018 the first exoskeleton was included in the list of aids of national health insurances.
Exoskeletons at DB Schenker
So what does the application in industry and logistics look like? Especially at the packing workstation or assembly line, people have to work slightly bent over for hours, which puts a lot of strain on the lumbar vertebra in the long run. Even more demanding for the back is the lifting of loads from their packaging or the removal of goods from ground areas in the picking area. While general lifting activities can be easily delegated to machines such as forklifts or robots, lifting is still a complex process for the machine control technology. An exoskeleton combines the power of the machine with the motor competence of humans.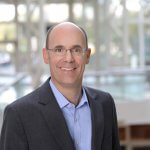 Gerald Müller, Vice President of Process and Efficiency Management at DB Schenker
"We have already tested the use of exoskeletons in pilot processes at several DB Schenker sites."
For applications in everyday work, manufacturers of exoskeletons are currently focusing on relieving the lumbar vertebrae, whose overuse is virtually a widespread disease. They are particularly often affected and lead to many sick days and early retirement. The support of other body regions by exoskeletons is just as conceivable, but on the one hand structurally more complex and on the other hand not so many usage scenarios are available.
DB Schenker is also interested in applications of exoskeletons, as Gerald Müller Vice President Process and Efficiency Management at DB Schenker reports:
"We have already tested the use of exoskeletons in pilot processes at several DB Schenker locations. They are designed to enable our employees to carry out physically demanding lifting work in a health-saving and less fatiguing manner. In addition, this year's Live Case Study of the PhD School of Logistics 2019 of the Fraunhofer IML deals with the use of exoskeletons and their evaluation by means of a lead-characteristic method. I am curious to see which results the doctoral students can present to us this year. The format of the Live Case Study was very successful in the two previous years – for both participants and the sponsor DB Schenker."
Industry 4.0 in its purest form
So far, Japan has always been considered a leading robot nation, also in terms of the development of exoskeletons. But one of the currently leading manufacturers of active exoskeletons worldwide is the Augsburg company German Bionic. Its model Cray X was awarded in 2018 in the "Land of Ideas" competition, which is hosted by the Federal Government and the German industry. Currently, the company has won the Deutscher Gründerpreis 2019 in the 'Start Up' category. The active exoskeleton supports the area of the lumbar vertebrae. In its latest version, it is digitally integrated and even self-learning.
"#Cyborg or #I4.0 tool? Are #exoskeletons ready to make heavy #work easier?"

Tweet WhatsApp
At the Hannover Messe 2019, German Bionic presented the ready-to-market Cray X, which in its current generation of devices can be fully integrated into industry 4.0 processes and whose data in near real time is transferred to the corresponding platform German Bionic IO. It recognizes the personal lifting profiles of its users, and will adapt itself better and better to the individual usage behavior of the wearer by means of machine learning. In addition, it is supposed to give recommendations and tips on how the personal lifting can be done in a healthier way.
In Japan, however, exoskeletons support seniors in everyday life, and Cyberdyne's Hybrid Assistive Limb is considered the world's first exoskeleton, directly controlled by nerve signals rather than muscle signals. The future of the exoskeleton seems to have just begun.
Do you consider exoskeletons to be real relief to work, which will become part of our everyday work?