What do you need to research the physics of cosmic matter? First, you have to create conditions that otherwise prevail during star explosions. Temperatures of up to 800 billion degrees Celsius, for example. But how? By colliding particles in particle accelerators at almost the speed of light. At the point of impact, cosmic matter is being produced for a brief moment.
And what do you need to build such an accelerator? Among other things, a logistics partner who can handle the special dynamics of a mega-research project.
FAIR – mega project of cutting-edge research
The GSI Helmholtz Center for Heavy Ion Research is currently building the particle accelerator FAIR (Facility for Antiproton and Ion Research) in Darmstadt. Starting in 2025, 3,000 scientists from 50 countries will give new insights into the structure of matter and the evolution of the universe, from the Big Bang to the present.
"High-end logistics for cutting-edge research. Heavy magnets, highly sensitive components: #DB Schenker is the logistics partner for the research project #FAIR of the #GSI"

Tweet WhatsApp
25 construction sites are being built on approximately 150,000 square meters. The centerpiece is an underground ring accelerator with a circumference of 1,100 meters. The construction site is gigantic: 2 million square meters of earth are moved equaling 5,000 single-family homes. 600,000 square meters of concrete will be installed – as many as 8 times the Frankfurt football stadium and 65,000 tons of steel will be used which corresponds to 9 Eiffel towers.
And this is what it will look like: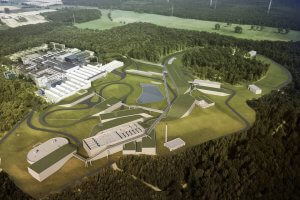 During the six-year project, DB Schenker operates a 9,100 square meter warehouse in Weiterstadt. It stores the technical components for the accelerator, including highly sensitive electronic devices. All in all, DB Schenker is responsible for a total of 24,000 components, which are delivered to the warehouse in over 5,000 individual consignments. DB Schenker is also involved in the transport of the components, including handling of customs formalities and coordinating different project partners.
This video of the GSI shows the overall plan of the construction:
Complex logistical requirements
We asked Harald Weiß, Project Manager Business Development & Implementation of the responsible office Rhein-Main / Frankfurt, about the special requirements:
Harald Weiß: "The GSI project is very demanding in many aspects. I just want to name two. Some of the components that need to be stored and transported are not only very expensive, but they cannot even be replaced. This requires uncompromising care in all aspects of goods handling and absolutely safe storage conditions. The requirements for our flexibility are also above average. International research institutions like the FAIR have very different time lines compared to industrial companies. Suddenly, at the weekly planning meeting, you find out that the 35-tonne magnets arrive in 7 days. As a result, we organize this special transport and all associated special cranes as well as transport and packaging within one week. "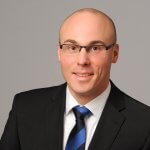 Harald Weiß, Project Manager Business Development & Implementation Rhein-Main / Frankfurt at DB Schenker
"Research institutions are timed quite differently from industrial companies. We support this with a high degree of flexibility."
Therefore, project and process management is a strategic success factor in this logistics project. DB Schenker has appointed two colleagues as exclusive administrators for the GSI. They will be available from Weiterstadt as the central point of contact for the customer and also for all participating service providers (special transport, cranes, …) and customs.
Trust and competence as a basis
But how do you convince such a demanding client to be the right partner for logistics?
Jochen Viehöver, Branch Manager Rhein-Main / Frankfurt at DB Schenker: "Above all, through sustainable and partnership-based consulting. You don't win such a project overnight. Harald Weiß and his team had the first contact with the GSI nearly two years ago. In the bidding phase, they clarified questions of feasibility with a high logistical expertise and developed an efficient overall concept. This valuable preparatory work built up trust between GSI and DB Schenker and, ultimately, decided in our favor. "
Jochen Viehöver, Branch Manager Rhein-Main / Frankfurt at DB Schenker
"Our competent cooperation during the bidding phase has built up trust between GSI and DB Schenker."
To summarize: Take a particle accelerator, clever researchers and a reliable logistics partner. Together, they will produce cosmic matter.
What are the benefits of basic scientific research for the German economy?