In the next ten years, the logistics industry is likely to change more than in the past 150 years. The reason: digital innovations for the "industry of the future" and new communication standards such as 5G. The new technologies offer shippers and service providers the potential to completely reorganize their own processes and services. Above all medium to large industrial companies are therefore currently looking for sustainable digital solutions to make their work and production processes even more efficient and economical.
This also includes trade fair construction companies who plan and implement the big appearance for their customers – usually with the tightest of windows.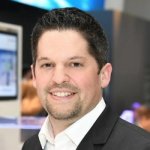 Timo Maibach, DB Schenker
"Exhibition construction is a true just-in-time industry for us. That's why we work with our customers on GPS live tracking, for example, to enable more accurate resource planning on site."
For example, mac, a full-service provider from Langenlonsheim near Bingen am Rhein. Today, the trade fair construction company is looking for answers to the increasing digitization of the market. "At the moment, companies from the trade fair construction sector in particular are in need of consistent and future-oriented concepts for digital applications and logistics systems at trade fair locations," says mac CEO Gernot Becker. "They should be able to cope with the ever-increasing frequency of loading and unloading." Digital solutions should therefore improve logistics in this area in the future.
DB Schenker supports this: The logistics service provider is one of Germany's biggest trade fair logistics companies, offering digital construction tools to trade fair construction companies at various locations.
Digital guidance systems for trucks and forklifts
Digital elements such as procurement interfaces or digital guidance systems for trucks and forklifts are included. These allow for faster loading and unloading, which is especially important in the very short construction and dismantling times at the exhibition center. The booking of entry and exit slots for trucks also ensures a more efficient flow of traffic. "Exhibition construction is a true just-in-time industry for us," says Timo Maibach, Head of Sales for Trade Fairs/Special Transport at DB Schenker. "That's why we work with our customers on GPS live tracking, for example, to enable more accurate resource planning on site."
The fact that many solutions can not yet be implemented nationwide is mainly due to the lack of standards for digital signage systems and the different "rules of the game" at the various locations. A trade fair construction company also faces this problem. "Many colleagues in the industry are faced with the same problems we are confronted with: different landlords, that is, trade fair companies, and the leasing of the exhibition halls to the trade fair organizers," says mac CEO Becker. "The ever-increasing economic pressure can only be solved by increasing the efficiency of exhibition logistics."
The pressure on logisticians is growing
Organizers of trade fairs in particular wanted to keep their own rental costs low by quickly returning the halls to the trade fair companies. However, this means tighter uptime, dismantling time and downtime, as well as greater pressure on the trade fair construction industry. And in this industry, one currency counts above all: time. Digital tools could now help to regain at least some time – and thus relieve trade fair construction companies and logisticians.
"Deadline pressure and hustle and bustle in trade fair construction: Digital tools help to set up and dismantle quickly and reliably. DB #Schenker #Messe #Messenogistik #Messebau"

Tweet WhatsApp
What do you think? Is digitization helpful in the trade fair industry?