Monday morning, grubby autumn weather, Hamburg harbor. A meeting room and a good coffee in the Rosshafen terminal. The view from one window collides with a wall of stacked containers, the other points into the distance. Together with DB Schenker, we are with Dettmer Container Packing (DCP). There is a box on the table and a question in the room: Can you ship this package, which is just big enough for a thermos? Sea freight is something for large units in 40-foot containers. These are 12-meter-long metal boxes that hold 10,000 shoeboxes. And now someone wants to send a single package by sea. Is that possible?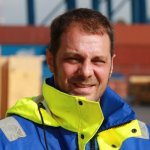 Oliver Kähler, DCP-Branch manager Hamburg
"In the LCL business, we handle 300 export and 150 import containers a week."
"Tiny dimensions are more of an exception," explains Oliver Kähler, DCP Branch Manager Hamburg. "But of course that is possible. And in export as well as import. That's our business." Typically, three to five pallets arrive at DCP from each shipper. Or a wooden box with 80 centimeters edge length. Or a bulky spare part for an excavator. Or something else whose dimensions are somewhere between big and small.
What all these pieces of cargo have in common: their volume is not enough for a full-grown container, not even for his little brother, the 20-foot version. Nevertheless, the freight must go to Melbourne, Sao Paulo or Shanghai. So the shippers are looking for another way to make small-scale shipments economically viable. If you bring less than a container load on the trip, that means in English: Less Than Container Load, or LCL for short. And so we have arrived at the logistical technical term for this sea freight product.
Public transport for container goods
Everyone knows the LCL principle from the bus and the tram: One uses a means of transport jointly. When it comes to people, you call it public transport. In logistics we speak of collective traffic: Goods of different types find a place in the same container and set off together.
In order to find out how LCL works in practice, we look into the Hamburg DCP hall. Here, freight forwarders and logistics service providers deliver a wide variety of sea freight shipments by truck. Units from all over Germany and neighboring countries arrive bit by bit onto the 26,000 square meter handling area. As in a waiting room, the passengers gather for the container to Port Klang, for the one to Mumbai, Barcelona, Seattle and so on. Freight also goes regularly to Vancouver, Tokyo and Manila. "Our customers can reach around 160 ports by LCL container worldwide every week," says Henning Bunte of DB Schenker. His business card features Senior Vice President LCL. His job is to develop LCL traffic. "We are putting together a market-driven portfolio. So our colleagues from sales can land enough orders that the containers hit the sea well filled."- That is also similar to public transport: An empty bus doesn't pay.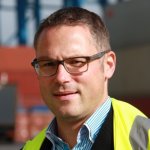 Henning Bunte, Senior Vice President LCL, DB Schenker
"With LCL, large and small ocean freight shipments reach every port in the world."
A quick packer can handle up to 15 containers a day
Generally, goods from 10 to 30 shippers share one container. About 72 hours before the ship leaves the Port of Hamburg, the packers begin to fill the container. "The best people manage 15 light containers a day," explains Kähler. "But even 10 per shift – light and hard mixed – are a good value."
In general, stuffing is a science in itself. The workers have to distribute the weight optimally: the heavy things down, but so that the container does not get imbalanced during loading. Then the lighter things up. But space saving. And always thinking of securing the load. But watch out! Everything in the dangerous goods category goes as close as possible to the door. Every third container gets a dangerous goods sticker. There is one already, if even one package is declared accordingly. That can be 5,000 fine perfume bottles, a 100-liter barrel of paint or 15 containers with cleaning agents. But as in normal business life, most of LCL's logistics are not part of the dangerous goods category.
Almost everything is LCL-suitable
"Just about everything that the industry produces and that you can load normally goes through our transshipment hall," says Emruh Polat, the commercial director of DCP in Hamburg. Most containers leaving the terminal measure 40 feet. If there isn't much happening on a tradelane, DCP takes a 20-foot container. Both formats are abundantly in stock. There are around 1,200 units in the depot. Most of them are owned by one of the top 10 shipping companies, such as Maersk, MSC and Evergreen, or like the German local hero Hapag Lloyd.
With tens of thousands of other containers on the long trip
And then it goes over the sea – to Asia, South America or wherever. The largest container ships now shoulder more than 23,000 of the small containers (20 feet). However, no one actually loads so many units. And for one simple reason: estimates assume that 80 percent of the cargo of ocean liners consists of the large 40-foot units. A full 23,000-TEU (Twenty-Foot Equivalent Unit) ship would have approximately 10,500 large and 2,000 small containers.
"How does it work when a small box goes on a journey by #seafreight? #Logistik talks about #LCL."

Tweet WhatsApp
Arrived at the port of destination, the ship is unloaded. A port operation receives the collection container and unpacks it. The box from the beginning of our report is probably also there. Then follow customs clearance and the route by truck to the recipient. But that is another story …