In 2008, some Swedish management consultants discovered that the ideal logistics location for Santa Claus is in Kyrgyzstan. They explained the reasons for this at the time to a few specialist editors at an impromptu press conference at a mulled wine stand. It was cold. It was so cold that nobody could use their stiff fingers to make readable notes. And the only recording device to hand was accidentally gulped down with a smacking "Glog" from a cup whose contents have a name that resembles the aforementioned sound.
Since then we have heard nothing new from the logistics centre in the middle of Eurasia. Except perhaps that an innovative warehouse organization system recently went live there. It is called SantaPlus (SaP).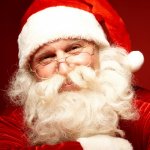 Santa Claus, parcel delivery specialist
"Tunnel systems for urban logistics are useless. I deliver the parcels through the chimney."
But let's not get side tracked. In purely mathematical terms, as the consultants learned at the time, Santa covers 5,800 kilometres per second in the hot phase of gift delivery. That's if he bases his warehouse in Kyrgyzstan. Should he rather, let's say, move it to Castrop-Rauxel, everything would be twice as far. Then the gifts would arrive on New Year's Eve, which would result in the muddle of all muddles, because we would still have to fire up the rockets. But let's leave it at that and get down to business.
What Santa Claus is struggling with
Like all logisticians, Santa Claus is increasingly struggling with the last mile of sledding. A solution that is acceptable to him is neither apparent in the firmament nor underground. Tunnel delivery systems to accelerate urban gift logistics can be found underground. But they don't suit Santa. "I have always practiced parcel delivery through the chimney. What we do in the vertical is what the modern city logisticians now want to turn into the horizontal," he complains. "But that won't do any good." In the end, everything has to go into the living room. And it's easier to get there via the fireplace than through the cellar. And who would shovel the snow into the tunnel for his sled?
Fewer and fewer Gift Chevaliers
What also worries Santa Claus is the latent shortage of sleigh riders. As is well known, he employs subcontractors for long-distance transport so that he can concentrate on gicing the festive delivery the necessary hoho and so on. But the once coveted profession of gift chevalier has been struggling for years with a homemade image problem. The exhaust fumes from biologically fed reindeer are considered odour-damaging and the standard installation of particle filters is still a long time coming. Nobody likes to sit on the buck and certainly not behind the reindeer.
Do you think unmanned flying machines could help? The man in red waves this suggestion away. He doesn't experiment with drones. He sees the Christkind as the superior choice because of his affinity for flying: "We stay away from air freight."
"Logistics around 24 December: #Platooning for Christmas sledges and #packet delivery through the chimney. "

Tweet WhatsApp
Logistics 24.0
And yet there is a solution: Sledge Platooning. 20 sledges full of presents in a row. All are connected via digital drawbars. Right at the front, a single experienced carriage driver swings the whip. Hah! This is what the future looks like! Autonomous sleds ("Autosch") soon scurry through the silent night. The means of transport finds its own way, while Santa Claus prepares the next delivery in the back seat. It's a good thing he doesn't have to deal with paperwork. Centuries before digitalisation, Santa Claus had struck on something that some logisticians still struggle with today: paperless delivery. Or did a child ever have to sign off on the receipt of a teddy bear? – Merry Christmas!