Thomas Ruelke from DB Schenker has set up his office in the Logistic City of Dubai near the new airport. The Chief Commercial Officer (CCO) Middle East and Africa focuses on the entire continent.
logistik aktuell: Mr. Ruelke, you have been working for DB Schenker in Africa for over three years. May we call you a specialist in Africa logistics?
Thomas Ruelke: Only if we agree that there is no such thing as a generic Africa logistics competence. Africa is a huge territory, roughly the size of the United States, the EU, China and India combined. There are 54 countries with very different economic, political, cultural, geographical and climatic conditions. Anyone who knows a little bit about the continent will find it difficult to say something general about logistics in Africa.
After all, DB Schenker is represented in 25 African countries and employs around 1,100 people there.
That is why, as logisticians, we can legitimately claim to have a certain Africa competence. This is important for our customers worldwide. Because Africa is a continent that is becoming increasingly interesting for the economy.
Which is also reflected on the political stage. We are thinking of the Pan-African Mobility Alliance last autumn or the G20 initiative Compact with Africa, which was launched under the German G20 presidency.
Among other things, many private investments are promoted in order to sustainably improve people's living conditions. This includes the construction of production facilities. And don't forget the African Continental Free Trade Area, which promotes the free movement of goods and services between all African countries. That is a very important impetus, also for the European and German economy.
How does it help the European economy if the barriers in African domestic trade are removed?
Individual national African markets are often not large enough for global players to invest in. But if you can reach several countries from one location without customs barriers and other obstacles, things look different. The word has now got around that Africa's economic output is $ 2.3 trillion. There is enormous potential here – also for logistics.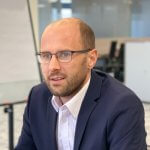 Thomas Ruelke, Chief Commercial Officer (CCO) Middle East and Africa
"Our picture of Africa will change."
What has to happen for European companies to recognize and seize their opportunities?
Many are already doing it. You feel: it is fashionable to be in Africa. They jump on the train, even if they don't know the route yet. There is no region in the world that promises such growth. An enormous number of infrastructure projects are being implemented here. I think of Ethiopia or West Africa such as Senegal or Ghana. The infrastructure also goes up with the consumer goods industry. But something also has to happen on the psychological level so that the western economy can take advantage of its opportunities.
What do you mean?
We can no longer underestimate Africa. It's not about desert or safari. Compare that to Asia. 50 years ago, when thinking of Asia, people thought of rice fields, chopsticks and the land of smiles by Franz Lehar. Today we have vibrant metropolises like Shanghai, Seoul or Delhi in mind. Our picture of Africa will change in the same way. I read in a McKinsey study that most people don't know Africa's economic strength. When asked how many Africa-based companies have annual sales of more than one billion euros, most people guessed "less than 50".
And how many are there?
Well over 400. And they grow faster and are more profitable than their global counterparts. I know international consumer goods companies with annual growth rates of 150 percent. German companies grow fruit and vegetables for the local market in Ethiopia. A lot is happening there and the trend will continue. By 2050, 2.5 billion people are expected to live in Africa. That is 2.5 billion consumers. There are currently half as many. There is a future market on our doorstep that cannot be overlooked.
"#Future #market #Africa: DB #Schenker is represented here in 25 countries with around 1,100 employees"

Tweet WhatsApp
But a difficult future market …
… for which you need know-how. And for which you need to be patient. There is no general Africa strategy. And certainly not a quick one. If you want to gain a foothold, you have to work hard, understand the people and take a close look at the circumstances. Not so long ago, DB Schenker transported hundreds of containers to Zambia for a solar power plant. The sea route from China to Tanzania was routine. But the multi-day overland journey into the interior of the continent via unpaved roads was a real challenge. This shows whether a logistician knows his way around and is capable on site. That was what I meant at the beginning of our conversation when I said there is no generic logistics competence for Africa. But this is exactly where the great opportunity is to open up new markets. Real growth markets. Our global customers have long recognized this. And DB Schenker too.
Contact
Thomas Ruelke
CCO Middle East & Africa
E-Mail: thomas.ruelke@dbschenker.com