No ocean freight without land transport. The pre- and onward carriage of containers to and from the large seaports in Germany and Holland make up a significant proportion of the volume of land transport that Schenker Germany processes in Germany and neighboring regions via truck transport. Ancotrans, one of the market leaders in container transport by truck, has been an important partner in this since 2012. And since January 2020, both companies have been implementing a consistent sustainability program.
Ancotrans: A strong partner with growing transport volumes
Schenker Germany cooperates with Ancotrans, which has a branch in Hamburg, at the seaports of Hamburg, Bremerhaven, Rotterdam and Antwerp. Flanking the main sea freight segments, Ancotrans takes care of the road transport up to the loading of the containers as well as the follow-up to end customers or distribution centers. The focus is on long-distance truck transport, which Ancotrans serves with fixed daily routes for all of Germany, plus individual transports to other European countries.
The transport volume that Ancotrans moves on behalf of Schenker Germany has increased continuously in the past three years. The quantities sold are impressive: In 2019 Ancotrans carried out around 6,350 long-distance transports for Schenker Germany, with 10,801 TEU being moved. Ancotrans is responsible for around 18% of the transport to and from the named seaports and is therefore one of the main service providers. And that's just long-distance traffic. There are also regular journeys in local transport.
CO2 neutral pre- and onward carriage in container transport
But Ancotrans is more than just a large and important road transport service provider. The Danish company is a pioneer in green logistics. This is particularly evident in the Anco Forest project. Initiated and supervised by Ancotrans, a new forest is emerging in Uganda. The company donates 5% of the profit to the planting of around 5,000 trees annually. Each of these trees can absorb 3 tons of carbon in just 20 years. Based on this advance, Ancotrans also encourages its customers to participate in this sustainability initiative. The project, of course, resonated with DB Schenker.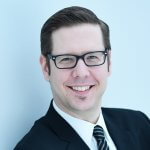 Sebastian Trizna, Senior Vice President Intermodal MCT, Schenker Germany
"Many customers are very interested in CO2-neutral products or the compensation of transport services."
Sebastian Trizna, Senior Vice President Intermodal MCT of Schenker Germany has been accompanying the project from the beginning. At the Hamburg location, he and his team are responsible for purchasing, tracking and controlling container transports in the hinterland port, by rail, inland waterway and truck. He remembers the initial spark with Ancotrans: "At transport logistic in Munich, Arne Kraeft, who heads Ancotrans' Hamburg branch, introduced me to the Anco Forest project. I immediately liked the idea. It ties in directly with our sustainability orientation. At the fair, we agreed to support this green logistics initiative. "
The Green Deal has been perfect since January 1, 2020. Schenker Germany supports the Anco Forest project by paying an environmental surcharge for all transports handled by Ancotrans. A noticeable step towards green land transport.
Pioneers of green logistics
Anne Kathrine Steenbjerg is enthusiastic about Schenker Germany's commitment to Anco Forest: "Like DB Schenker, Ancotrans believes in setting ambitious goals for our customers and the planet. We want to help our partners to create the most environmentally friendly supply chain possible. It's fantastic that Schenker Germany supports us in our mission."
Schenker Germany finances this contribution to the CO2 reduction in pre- and onward carriage of container transport regardless of the involvement of its own customers. But in the medium term, the Anco Forest initiative will also be communicated to customers.
"CO2 compensation for long-distance truck transports. #Schenker Deutschland AG supports sustainability project of its partner #Ancotrans"

Tweet WhatsApp
Sebastian Trizna: "Many customers are very interested in CO2-neutral products or the compensation of transport services. This is often even required for larger tenders. We did not want our support from Anco Forest to depend on the financial participation of our customers. Out of conviction to make a sustainable contribution to the wellbeing of the environment, we are happy to make advance payments. But I am confident that with this exemplary project we can also bring customers on board financially. "
Contact
Sebastian Trizna
Senior Vice President Intermodal MCT
Schenker Germany
Email: Sebastian.Trizna@dbschenker.com