The banner on the bridge railing is visible from a good distance. Just before the 80,000-lb machine passes below the bridge, the driver can read what's written on it. The giant letters on a white bedsheet read "Thank you!" next to a stylized truck. A few seconds later, the bridge vanishes in the mirror. The driver is fully focused on the surrounding traffic. One trucker has another 30 highway miles to go, for another it's another long 500 miles before he'll reach his destination. A normal day.
The "thank you" lingers. It rides along in the cab, providing a sense of motivation. A few letters on a bedsheet give the man on the wheel a boost. Thank you for keeping the supplies rolling in. It's thanks to you that store shelves remain well-stocked. Instead of just the bare essentials, we can still get everything we want: plants for our balconies, chocolate for our comfort, and charcoal for barbecues. Blow-dry spray and setting lotion are available as well. If it's impossible to get an appointment with your hairdresser, you just have to do your own hair. Thank you.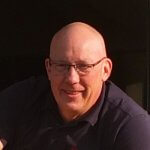 Matthias Heinz, professional truck driver with the DB Schenker location in Chemnitz
"People's appreciation for our work as drivers is increasing. They realize that we deliver what they need."
Public thanks is public praise
One of many thousand people this special thanks is directed to is professional truck driver Matthias Heinz. Friendly and colorful greetings placed in public spaces speak to him on a personal level as well as his colleagues driving their vehicles through this crisis unswervingly. "I'm happy about the nice messages I see hung up from time to time," the 56-year-old says. He knows of plenty of fellow workers who feel the same way. Public thanks is public praise. And that's something everybody likes to receive, especially if it's well-deserved. The same applies to nurses, doctors, salespeople, and all the other heroic professions that are more deserving of being honored than ever.
Matthias Heinz is a driver for the DB Schenker location in Chemnitz. He's been on the road for 35 years. It doesn't take Heinz long to calculate his personal mileage: "In kilometers, I'm a millionaire." And he's passed that milestone several times over, which actually makes him a multi-millionaire. These days, he's mainly hauling everyday items: hygiene products, foodstuffs, DIY supplies. Liquid disinfectants are another item that's in high demand now.
Many things just work normally
Corona has changed the everyday lives of truck drivers because of safety regulations and precautions alone. "Initially, we didn't always have access to sanitary facilities at the loading and unloading points. Many truck stops were closed off." This is how Heinz characterizes the situation as it was a few weeks ago. Fortunately, things have improved. Generally, it's business as usual in many respects. His employer, DB Schenker, is currently relying more on transportation by train than by truck. However, there's still enough cargo left over to be handled by road traffic. And that means long hours spent in the cab eating away at the miles.
"#TruckDriver Heinz of #DBSchenker is a #MultiMillionaire when it comes to kilometers traveled. People like him are pillars of the community."

Tweet WhatsApp
Does he enjoy his job? "A long-haul truck driver spends much of their week on the road. That's just how it is", Heinz states for the record, betraying little emotion. It's part of a job that's not always easy. "But my family is quite understanding when it comes to my job. It makes us appreciate our time together even more." Experiencing appreciation and respect for his reliability and commitment to his job is a special perk to Matthias Heinz. And it always is, in times of Corona or otherwise.
Are truck drivers treated with respect in Germany?