Panic buying during coronavirus times? We all remember the run on noodles and toilet paper in the first weeks of the pandemic. With the strong support of its logistics partners, commerce has ensured supplies. Consumption of these products is now normalizing. There is another product group that has received less attention and has also been in high demand for weeks: fruits and vegetables. And that's in fresh form as well as canned and as juices. The background is increased health awareness and, above all, the desire for a vitamin-rich diet.
There is currently a very high demand for transport and storage services for these products. DB Schenker supports the fruit juice producer albi at the Rostock location. Based on a well-established contract logistics partnership, DB Schenker is working at full steam to ensure that the liquid vitamin dispensers land on store shelves quickly and safely. Because as the saying goes. An apple (juice) a day keeps the doctor away.
Millions of juice bottles and packs
Every year, 57 million packs and bottles of fruit juice leave the outgoing goods department at DB Schenker's Rostock logistics center. As a contract logistics partner of albi, DB Schenker not only stores these healthy goods, but also provides numerous value added services for the beverage manufacturer. The albi juices arrive at the central warehouse for the supermarkets as 1l and 1.5l packs, as well as 0.2l and 1.0l bottles. The containers and displays with fruit juices will then be delivered to around 11,000 EDEKA stores and branches of Netto Marken-Discount throughout Germany. The distribution channels are thanks to the ownership structure: albi has been part of the EDEKA network since December 2017.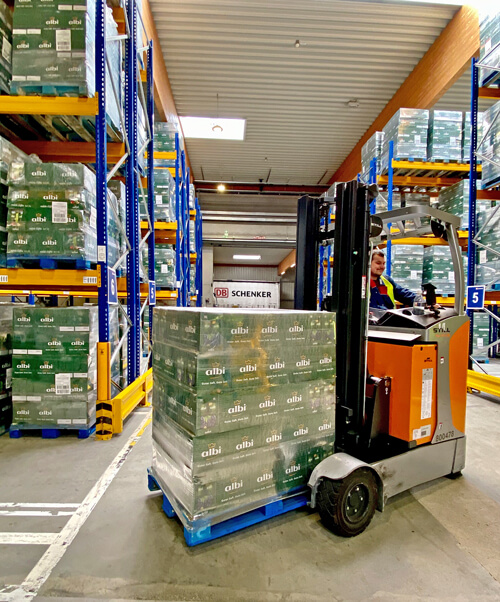 DB Schenker has 6,000 sq m of storage space for albi at the Rostock location. In this way, peak loads can be safely intercepted, especially for larger advertising campaigns.
DB Schenker uses the time between receiving and delivery to carry out numerous additional preparatory services:
Picking: Various trays are packed individually on pallets according to customer orders.
Assembling: For various customers, so-called trays of six packs of apple, cherry and orange juice are put together.
Display construction: For EDEKA and Netto stores, fruit juice packs and bottles are sorted into 2 or 3 layers on display pallets ready for sale and packed securely for transport.
Accelerated beverage deliveries in coronavirus times
Business is currently in full swing for albi. The coronavirus pandemic is creating increased awareness of healthy eating in general. Accordingly, consumption is above average and albi is meeting the high customer demand with additional promotions.
At the same time, requirements are increasing due to the even stricter hygiene guidelines. In the warehouse and especially during transport. For example, truck drivers are no longer allowed to enter the hangars during delivery to the warehouses. Accordingly, more time must be scheduled for processing. But thanks to far-sighted disposition and a high level of commitment on the part of the drivers, the fruit juices are currently reaching their destination on time.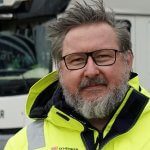 Gunnar Scholtz, head of the Güstrow/Rostock location
"Our evolved customer relationship is the basis for successful work even in times of crisis."
Gunnar Scholtz, head of the Güstrow/Rostock location, is satisfied and also quite proud: "We are seeing that increased requirements in times of crisis can be well implemented based on an evolved customer relationship and sufficient resources. And fruit juices are simply a nice product. Even more so in coronavirus times. Each bottle of fruit juice is a small contribution toward supplying the population with liquid vitamins. We're doing contract logistics for the immune system, so to speak. "
The relevance of logistics once again becomes evident in times of crisis. Maintaining supply chains under demanding conditions and ensuring security of supply – these are system-relevant contributions that are made for all of our benefit by everyone in the warehouse and on a variety of transport routes.
"The demand for fruit juices is booming. #DBSchenker ensures smooth supply chains for the manufacturer #albi from the #EDEKA group"

Tweet WhatsApp
Contact
Gunnar Scholtz
Head of the Güstrow / Rostock location
E-Mail: gunnar.scholtz@dbschenker.com