Gas coolers, ICE railcars, airplanes or tunnel components – anyone who has something to transport that goes beyond all dimensions often turns to DB Schenker. In the past few decades, the employees of the special transport department in Hagen carried out many projects that seemed impossible at first. Since 1972, Hagen has been active in this segment: "We transport goods that can't be transported on regular vehicles including small special transports and single pieces weighing 100 tons," says department head Karl Hammerschmidt, who heads the special transport department.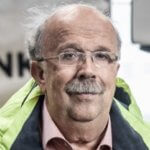 Karl Hammerschmidt, Head of Special Transports
"We transport goods that can't be transported on regular vehicles including small special transports and single pieces weighing 100 tons."
The department plans up to 500 orders in a month. Twelve vehicles are available: low loaders and heavy-duty tractors for a total towing weight of up to 250 t. Air cushion lifting systems and mobile cranes to move the heavy cargo.
In day-to-day logistics operations, every day brings a new challenge. If necessary, the team in Hagen makes plans together with the other branches in Germany, which also carry out special transports. "We also work with colleagues abroad from time to time," says Hammerschmidt. The Hagen office is currently handling large machines for the offshore business with the project logistics specialists at the DB Schenker branch in Oslo. "Such cooperations based on the motto DB Schenker works with DB Schenker have a lot of potential for future business," says Hammerschmidt.
Customer relations matter!
Good contact with customers, who come from a wide variety of areas – from shipbuilding and mechanical and plant engineering to museums – is particularly important. Not all orders are as nice as the logistics for the boot trade fair in Düsseldorf. The most beautiful luxury yachts meet at the world's largest water sports fair in Düsseldorf. Thousands of curious and potential buyers make a pilgrimage to the Rhine to admire the often unusual ships. For a long time, DB Schenker ensured that the proud yachts were brought ashore. Some with exceptional solutions. "Over the years, boot has been outstanding among the large and spectacular orders that we receive every year!" Says Hammerschmidt.
Precise Planning
Heavy and special transports require one thing above all: excellent and exact planning. For example when using roads. In the case of heavy loads, more than 130 tons of trucks have to travel hundreds of kilometers through Germany. Usually only 40 tons are allowed for one truck. "I have learned over the years to approach the problems calmly and carefully," says Hammerschmidt.
Planning can take months. His first heavy transport, which Hammerschmidt carried out almost 30 years ago, involved two containers that had to be transported over a distance of 60 kilometers in Emsland. The two pieces were eight meters in diameter. "We needed three days for the route. I prepared this for three months and the transport later put a lot of strain on the nerves, "says Hammerschmidt.
Therefore, a large part of the planning consists of driving the route and checking its suitability. "Roundabouts in Switzerland, overhead lines not recorded at the DB, bridges that are too low, traffic lights that cannot be driven under – all of this is nerve-wracking," says Hammerschmidt. Only when that's done, we will ask the authorities for approval. This can include official instructions such as police escort or transports between 10 p.m. and 6 a.m. for the very large transports. "So far, every problem has been solved very well in the end," says Hammerschmidt.
The industry is changing
The industry is constantly changing. The cost pressure is particularly troublesome for logistics companies. Nevertheless, the classic activities of the freight forwarder are preserved in special transport: order analysis, vehicle search, route planning, approval and transport organization. Everything is always organized by a medium-sized branch within the DB Group.
This requires a lot of flexibility and communication among the employees, which are the most important skills of a specialist and project logistician. "Above all, it is important to deal with the team, with the authorities and above all with the customers," says Hammerschmidt. Only then do you have a very good technical understanding and a very high level of motivation.
"Heavy and special transports require one thing above all: excellent and exact planning. #DBSchenker #Heavylift"

Tweet WhatsApp
Karl Hammerschmidt will leave the team in Hagen at the end of the year. He retires after 48 years with DB Schenker and 30 years with special transport. "I was always enthusiastic about the business. What I will miss most: Looking for fast solutions to supposedly unsolvable problems. "
Contact
Denis Marinkovic
denis.marinkovic@dbschenker.com