11 boards, 78 nails, 9 blocks, 25 kg. These are the specifications of an EPAL euro pallet. Length and width – 1200 x 800 millimeters which sounds like solid carpentry. However, according to the digitization experts from Fraunhofer IML and EPAL, the Euro pallet should in future be more than a robust substructure that can carry up to 4 tonnes around the world. A multi-stage development project will upgrade the load carrier to an information carrier.
Counting with the smartphone
The first step is to record quantities and manage pallets using a smartphone. Logistics service providers, freight forwarders, and shippers need to know how many pallets are in stock, on the ramp, in the warehouse and on the go. "For us, digital support in this area is particularly valuable," says Dr. Nuri Morava from Global Innovation Management at Schenker AG, who heads the cooperation with Fraunhofer IML as Global Innovation Manager at Schenker AG. This includes the DB Schenker Enterprise Lab for Logistics and Digitization, which has been successfully developing and testing new technologies for DB Schenker for five years now.
"At every branch of our land transport organization there is someone who is constantly managing the pallet pool," explains Morava. These colleagues could save a lot of time-consuming routine work. Plans are in place for an app which allows you to take a picture of a stack using your smartphone while the app does the counting. This should make inventory management and the administrative processes related to the exchange of pallets with carriers much easier. Photographic counting becomes even more interesting if it also documents the qualitative condition of a pallet. "As far as you can tell from stacked units," admits Morava.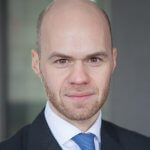 Dr. Nuri Morava, Global Innovation Management at Schenker AG:
"It would even be conceivable that a pallet can send its location data and indicates incorrect loadings before the truck leaves the dock."
QR code for identification and localization
The next step in the transition from load carrier to information carrier is the use of QR codes. They are burned into the base and allow pallets to be individually identified and located. A platform should store all data. Ideally, the entire route that a pallet has taken since its first use can be traced. Access to this data is, however, an entirely different issue.
In addition to the QR code, and this is the third stage of the development towards an intelligent load carrier, a sensor is installed in the base of the pallet. At least that is the idea of EPAL and Fraunhofer IML. The sensor measures the ambient temperature, the air humidity, and shocks. This type of sensor is quite expensive. If you take into account that a new EPAL product currently costs around 8 euros, its price would increase significantly due to the technical input. However, this is an one-off cost and ignores the possibility of multiple use. As soon as the life cycle of one pallet is reached, the sensor can be fitted to another pallet. Under these circumstances, it may well then pay off because the sensor should last approximately 10 years.
The pallet knows where it is and where it wants to go
"It would even be conceivable that a pallet can send its location data and indicates incorrect loadings before the truck leaves the dock," Morava said, looking to the future. "The future will show whether this scenario is realistic in practice. Technically, it will be definitely possible." The same applies to a planned pay-per-use remuneration system whereby users do not buy pallets but pay for each use.
"The logistics are on pallets"
It will be interesting to see which innovations the practitioners, researchers, and engineers from Fraunhofer and EPAL come up with in the near future. These developments are very positive for logistics service providers and freight forwarders. IML Institute Director Michael ten Hompel outlines the great importance of pallets for logistics and he also points out the potential if pallets were able to determine their position and condition at any time. Therefore, researchers and practitioners continue their work on intelligent pallets with a strong commitment. The first pilot tests with intelligent pallets have just started and the pilot is still open for interested logistics partners.
"#EPAL #iPAL #pallets progress from being #load carriers to #information carriers. This increases the efficiency in #logistics."

Tweet WhatsApp
The European Pallet Association e. V. (EPAL) operates the world's largest open exchange pool for freight carriers with over 500 million euro-pallets and 20 million mesh boxes. EPAL pallets are made from sustainably grown wood. It usually takes 6 to 8 rounds before the first repair is necessary. In 2018, 94 million units were produced, and 28 million units were repaired.
The digital upgrading of EPAL pallets …