The sky has become quieter in the last few months. No wonder, because the Corona pandemic has caused a great deal of confusion in the logistics industry. Because people were no longer allowed to travel by air in the first weeks of the pandemic, air freight has also been massively disrupted. Some of the goods that are transported back and forth by air between cities, countries and continents are carried in the bellies of passenger planes. If these so-called belly-cargo capacities are lost, freight is left lying around or has to be replanned.
As in these times: "The Corona pandemic has presented us with enormous challenges. We had to constantly find new solutions for our customers under great time pressure," says Nouri Boulahrouz, Head of JETcargo Import at DB Schenker at Frankfurt Airport.
Become capable of acting quickly
In the first weeks of the pandemic, airfreight capacities worldwide fell by up to 42 percent in the first weeks of the pandemic, as the German Federal Office for Goods Transport determined in its market observation. As a result, transport volumes collapsed and handling times for incoming goods became shorter and shorter. Freight that could no longer be transported was left lying around. Cargo handling agents, who take care of freight in their day-to-day operations, could no longer accept new shipments. Logistics service providers like DB Schenker had to act quickly. "So we looked for solutions, created new resources, rescheduled and became able to act quickly," says Boulahrouz. "That was extremely strenuous because we knew that the freight was urgently needed."
Because there was a lack of capacity in conventional passenger aircraft, airlines and logistics companies simply converted the decommissioned jets into cargo planes. Or they combined different modes of transport to reduce the share of air freight in urgent shipments.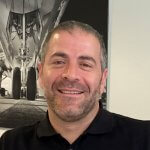 Nouri Boulahrouz, Head of JETcargo Import
"A lot of things we didn't think we could do, we did."
High time pressure
The few planes that landed and took off at the beginning mostly brought medical goods: protective masks, protective clothing, medicines and tests from Asia – or simply food.
The time requirements for the medically necessary goods in particular are dramatically high. For example, protective masks for a children's cancer clinic in Poland were on board a plane from Shanghai in April. "That was our top priority," says Boulahrouz. All employees at the airport worked hard to speed up the shipment. "This enabled us to have the freight ready for onward transport to Poland in five hours – normally that's very difficult to do," says the logistics expert.
Protection of employees
On top of that: DB Schenker also had to change its processes. The protection of the 30 employees in the department comes first. Most of them did their job from home for the first few weeks: cooperating with 32 airfreight offices in Germany. Unusual working conditions in an industry that thrives on direct human contact. "We have definitely learned something new," says Boulahrouz. "A lot of things we didn't think we could do, we did."
Meanwhile, the situation in the industry has eased. The number of scheduled flights has increased again. Medical protective equipment is now being transported by ship because the first need has been met. The demand for airfreight is also increasing again: the large textile customers, for example, are taking clothing into the air to have the goods in the shops on time for the season.
" #Airfreight and #Corona: Decreasing #capacities, high time pressure and new forms of work are affecting the #logistics industry."

Tweet WhatsApp
Restrictions continue to apply
However, there are not yet as many aircraft available as necessary. This means that air freight to certain destinations in Brazil and North America is still difficult.
"We have already had many stressful situations here at Frankfurt Airport," says Boulahrouz, who has been working in air freight at DB Schenker for 20 years. The volcanic eruption in Iceland in 2010, for example, when the ash clouds paralysed all air traffic over Europe. Or November 2017, when the airport was no longer able to handle the volume of air freight due to strikes. Short-term slumps in a smoothly functioning transport chain. "Things are different today," says the logistics expert. "We expect that the restrictions imposed by the Corona pandemic will accompany us even longer. But we can do this because we are a good team and thanks to our many partners we can find solutions even in exceptional situations!".
Contact
Nouri Boulahrouz
Head of JETcargo Import
Email: Nouri.Boulahrouz@dbschenker.com
Related Articles