Erik Wirsing, Vice President Global Innovation at Schenker AG, on additive manufacturing and the contribution of logistics.
logistik aktuell: Mr. Wirsing, let's start with a quote of yours. "The worst that can happen to a logistician is: Everything is already where it is needed." – In the age of additive manufacturing, how far is the logistics industry from this worst-case scenario?
Erik Wirsing: I am sure it will still be some time. But as logisticians we have to keep an eye on developments. That's why I put this bold thesis forward in my lecture. We are still a long way from teleportation, and logisticians are still needed.
Of course we've already seen that customers manufacture individual components additively and need us to a different extent for transport and storage. But so far we've mainly been talking about individual parts or small scale production when talking about 3D printing. The production of large batches with thousands of components, such as those produced by an automotive supplier, is still handled conventionally.
What are the challenges in the field of logistics and 3D printing?
There are a whole string of them. The subject of data or copyright protection alone is tough. Manufacturing companies usually give the design data of their parts to an external service provider so that they can be produced using 3D printing. The client naturally wants to ensure that this sensitive data does not reach third parties or otherwise get misused. Or consider another case: someone needs replicas of a part, but has no design data. Because this part comes from the time before digitization and the paper plans cannot be found in the archive. What can be done? In such cases, the logistician is in demand as a service provider and consultant, without it being primarily about transport chains.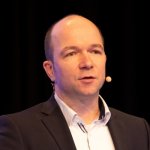 Erik Wirsing, Vice President Global Innovation Schenker AG
"When it comes to 3D printing, the logistician is in demand as a service provider and consultant, without it being primarily about transport chains."
You're addressing the issue of spare parts here.
There are clients who have to keep spare parts in stock for several decades. They take up a lot of space in the warehouse, but are rarely accessed and then in small quantities. If you produce spare parts on demand using 3D printing, you need less storage space. This can also be seen from the perspective of sustainability. You don't have to keep thousands of parts in warehouses around the world for ages, of which only a few hundred may end up being needed. The rest are thrown away at some point. Today this can be done in a more elegant way in terms of production technology and logistics and, above all, more resource-efficiently. In the future, logistics experts – and naturally I mean DB Schenker too – will come up with practicable solutions for such issues. This includes additional activities such as reworking the parts, quality assurance or, of course, storage and transport.
What is the scale of 3D printing at DB Schenker today?
With our parent company, Deutsche Bahn, we have already printed over 10,000 spare parts for trains. Typical products also include the handrail signs at the exits of train stations, which are provided with individual signposts. The railway needs around 15,000 of these. That means 15,000 unique items. Each handrail is individually manufactured for the respective location.
"#3dPrinting is among the typical services in #logistics. Erik Wirsing of #DBSchenker: "It's also about #sustainability.""

Tweet WhatsApp
And what do you expect in the future?
The importance of 3D printing will increase – for our customers and for us. DB Schenker is prepared for that. We're offering the entire process as a new 3D printing service for our clients. It starts with screening and engineering. So that we check the quality of the existing data for suitability for 3D printing and, if necessary, carry out a redesign. Then we take over the actual production and, of course, the logistics. We produce spare parts where and when they are needed and integrate 3D printing into our customers' supply chain.
Contact
Denis Benz
Global Innovation Manager
3D-Printing Service, Platform & Business Processes
Email: denis.benz@dbschenker.com
Related Articles