"Even in the Age of digitization, we need dispatchers with brains and organizational talent," says Bernd Drossel, Head of Production at DB Schenker's Nuremberg office. "But this Age also provides our dispatchers with suitable tools leaving space for creative and self-determined work, planning and organization." In logistics, this tool is called "Drive4Schenker".
How does the freight find its way to the truck – or the truck to the freight?
Half a truck of office supplies from Mecklenburg-Western Pomerania to southern Italy, a full load of cleaning products from Upper Bavaria to Sweden, a bulky 600 kilogram machine part from the Bergisches Land to Frankfurt an der Oder. The inquiries that DB Schenker's land transport offices receive every day are as diverse as the service portfolio for business in Europe. Something is being produced somewhere and it has to go somewhere. The sender, who is also known as the shipper, wants to have the recipient's goods delivered at a certain point in time. They contact the DB Schenker branch in their area. A transport company that carries out the order determines their disposition. Such companies, known as carriers in the technical jargon, maintain fleets of 20 or more trucks.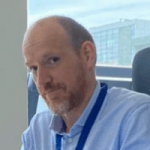 Ole Trumpfheller, EVP Contract Logistics & SCM at DB Schenker (Germany/Switzerland)
"We are diversified and flexible, which is why we can compensate well for any fluctuations."
In order to find the right truck, the Nuremberg dispatcher Stephanie Meier uses – just like her colleagues all over Europe – the Drive4Schenker platform. The name is the concept: anyone who wants to drive on behalf of DB Schenker can use this tool to "pick up" loads for their trucks. 50,000 transport companies across Europe are accredited to use Drive4Schenker.
The difference between system traffic and cargo traffic
DB Schenker produces road transports in two different ways. System transports connect locations via synchronized line transport. For this purpose, smaller units from several senders are bundled at a transshipment station ("hub").  In caro traffic, the sender provides goods that either fill a truck completely or at least a good third of it. The first case is called full truck load (FTL), the second is called less than truck load (LTL). The art of a freight forwarder and carrier is to combine LTL shipments with the same route into a full load. Cargo transports are door-to-door transports. Unlike the system traffic, they reach their destination directly, without transshipment.
Drive4Schenker is very simple: the dispatchers place their customers' inquiries on the platform. The inquiry shows what kind of cargo it is, what quantities are to be transported, and when from where to where. As soon as a request is filed on Drive4Schenker, selected partner companies automatically receive an email. Each DB Schenker office decides for itself which partner will be contacted. Usually these are companies with which DB Schenker has been cooperating for years. Many of these preferred carriers have specialized in certain countries or regions and are grouped accordingly in Drive4Schenker. This way, they only receive the inquiries that may be of interest to them. For some regions there is just a handful of companies, whereas strong German trading partners such as Spain, Italy or Austria have a large number of carriers available.
No time-consuming coordination by email or phone
"In the past, we had to contact all carriers individually and ask them whether they wanted to take on the job," recalls Meier. Today, the dispatcher only has to post the request on the platform. No time-consuming inquiries from the transport company. For the carrier, it's a bit like receiving an email with the subject line: "Can you bring fifteen pallets to Andalusia tomorrow?" The freight company opens the platform with one click, finds the information required for the collection and makes an offer. If everything fits, the office clicks back: order placed.
"This relieves everyone involved of administrative work," concludes Stephanie Meier. "Thanks to the lean and precise processing of individual orders, there is more time to consider the wishes and possibilities of the transport company. In this way we connect supply and demand even better. "Normally, the cargo is picked up from the sender the next day and, depending on the distance, delivered within 24 to 48 hours. The carriers have the advantage that they receive a precise overview of their desired target region and do not have to search for their desired partnership among numerous offers. This makes it easier for them to form combinations. Because a half-empty truck is neither economical nor ecological.
"The art of a # dispatcher is to organize the #load traffic efficiently. #Drive4Schenker helps with this."

Tweet WhatsApp
Bernd Drossel sees his employees upgraded by the tool. For him, the manpower of dispatchers is far too valuable to have a large part of their time being devoted to administrative activities. "The competence and what makes the job attractive is to design tours intelligently, to keep an eye on the freight carrier market and to establish contacts as a transport manager." What is particularly useful for the man in the field: DB Schenker developed Drive4Schenker itself and allows the experiences of the users to flow into the optimization of the tool. Because that is logistics made by DB Schenker: It can always be a little more efficient.
Contact
Alexander Ferber
Head of Drive4Schenker
Land Transport Road Brokerage
alexander.ferber@dbschenker.com
Related Articles