The corona pandemic has disrupted social and economic life all over the world. Of course, not all jobs could be done from home. Nurses, doctors, police officers, service staff, farmers and logisticians have kept society running in the past few months. They will also have to show their presence in the future.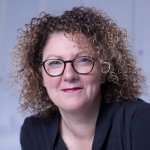 Christa Stienen, Chief Human Resources Officer at DB Schenker
"We will have to completely reinvent our collaboration, and for this we need new agreements, rules of the game and appropriate behavior."
But surprisingly, the switch to flexible working away from the office has worked out well in many other professions. Virtualization, flexibilization and digitization of daily work processes have shown in recent months that goal and performance-oriented work is possible without the permanent presence of employees. Experts assume that theoretically two out of five jobs in Germany can be carried out in the future regardless of any location.
New workflows
The logisticians, too, have been very concerned about the changed way of working and the many hygiene rules. On site, in the warehouses and hubs, new policies must now be followed. If services require the physical presence of employees, strict handling rules ensure their protection. In administration, too, new forms of organization have integrated mobile work into the work processes.
"The corona pandemic made it clear to all of us that the presence culture is often a stumbling block. In some cases, we will have to completely reinvent our collaboration, and for this we need new agreements, rules of the game and appropriate behavior, "says Christa Stienen, Chief Human Resources Officer at DB Schenker in the Germany / Switzerland cluster.
Advantages of digitization
Digital processes are important for the success of the new work organization. Since the beginning of the corona pandemic, logisticians have been relying much more heavily on digitization, as the Bundesvereinigung Logistik BVL found in its July 2020 study "Trends and strategies in logistics and supply chain management".
Increasing digitization in the new world of work is proving to be helpful. Ideally, thanks to IT and digital tools, mobile working becomes an integral part of a working world that relies on efficient and intelligent processes instead of a mere presence culture.
Flexible working hours
The design of the new form of work requires a corresponding mindset from everyone involved: Virtual conferences and meetings have to be well designed and prepared with the right software in order to be successful. Working from home also requires discipline and self-control. Those who prefer to chat with colleagues in the tea kitchen will not be happy in front of the computer at home.
"Fringe benefits are playing an increasingly important role in the relationship between employer and employee," explains Christa Stienen from DB Schenker. One example of this are new working time agreements. This also applies to DB Schenker: if possible, flexible working hours are being implemented.
Complex management tasks
Employers can use the new work organization to better and more closely bind employees. Because the new world of work, employers would have to negotiate with their employees, says Prof. Dietmar Harhoff, Director at the Bavarian Research Institute for Digital Transformation: "Studies suggest not to overdo the home office. Depending on the task, two to three working days per week seem ideal. "The flexibility of the working models would lead to increased digitization of processes, an improvement in efficiency and thus an increase in productivity. "Investing in a home office is therefore worthwhile for companies," says Prof. Harhoff.
"Farewell to the culture of presence: New forms of work are finding their way into logistics #dbschenker #newwork"

Tweet WhatsApp
Freedom and competence
Studies by the Zukunftsinstitut in Hamburg confirm what made a company successful in the pandemic. "It is not the organizational structures that are the decisive factor, but a management culture that grants freedom and relies on the skills of the employees," writes Franz Kühmayer in the essay "Working after Corona". What is important is the degree to which managers are able to lead at a distance. Plus their trust, their focus on results and their tolerance. "The word service is not just about performing, but also about serving", says Kühmayer.
Related Articles