It's the same story every year: For some it's joyful anticipation, for others it's an uneasy feeling somewhere in the pit of the stomach. No, it's not about visiting family, but rather the question: will there be a white winter?
When the city and the countryside are covered with a blanket of snow, it gives the impression for a brief moment that the world is moving a little slower. On road and rail, this is not wishful thinking: snowfalls and sudden cold spells can upset logistics processes and require short-term responses. Although the snow is nice to look at – deliveries should still arrive on time so that supply chains continue to function smoothly.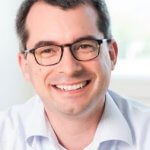 Mirco Schären, DB Schenker
"The most important thing is that our employees are always prepared to respond flexibly to such harsh winter conditions."
Granted: snow and cold are rarely sudden surprises. Thanks to precise meteorological forecasts, DB Schenker is also able to plan essential responses several days in advance. However, preparation for winter starts much earlier. Even before the cold season sets in, all vehicles have to go through a winter check: this is where they are inspected for their winter suitability and to ensure that no breakdowns will occur as a result of the cold.
Flexible approach to winter
The greatest danger during snow and frost are the roads. Accidents and traffic jams occur spontaneously and can hardly be taken into account during planning. If trucks make less progress due to difficult road conditions, delivery times can be delayed.
DB Schenker therefore turns to local transport planning. This unit coordinates the unloading sites for deliveries. "If road conditions are poor, the number of shipments per truck is reduced so that deadlines can be met and mountain regions can still be serviced, if possible," explains Mirco Schären, Head of Logistics / Head of Automotive at DB Schenker in Switzerland.
Night-time journeys are also a significant challenge, as roads are often only cleared in the early hours of the morning. In addition, temperatures often drop below freezing point at night, which means that black ice can form on the roads. DB Schenker is therefore switching to four-wheel drive vehicles on certain routes. Smaller deliveries will be transferred from trucks to cars with snow chains. "The most important thing, of course, is that our employees are always prepared to respond flexibly to such harsh winter conditions," says Mirco Schären.
Keeping an eye on the interaction between road and rail
Special flexibility and a watchful eye are also required for intermodal transport. The focus is primarily on the transshipment terminals.  This is where trains are routed and where pre-carriage and transshipment services are planned. It is important to constantly monitor, in close coordination with the terminals, how the weather situation will develop, and which transport routes are accessible.
"It's a constant balancing act as to whether or not train or road traffic will operate without restrictions. In the end, it may happen that a loading unit that has already been loaded onto the train is to be transported by road or vice versa. As a logistics provider, we have to remain flexible to meet the needs of our customers," explains Elmar Stork, Head of European Rail Production at DB Schenker Full Load Solutions. Transporters have to cooperate closely here, with each other and with their customers. Strong communication, problem-solving skills and innovative ability are particularly essential here.
Securing supply chains with interim storage facilities and contingency plans
Critical supply chains are required to operate even in snow and ice. "Emergency scenarios with different escalation levels are defined in such cases," explains Elmar Stork. "These concepts are developed in advance with our own logistics partners, but also with customers, so that the appropriate measures can be taken promptly," says Elmar Stork.
One such measure is consignment warehouses. Logistics companies set them up as a reserve to provide a buffer against possible delivery shortfalls. It is important to inform customers as early as possible about such sudden onsets of winter and potential delays. Fortunately, they usually respond with understanding, reports Mirco Schären. The logistics specialist knows that quick information and reaction are the key to dealing with snow and the cold weather. Eventually, the snow has to be removed from the actual delivery routes as soon as possible.
Although sledding fans and ambitious snow sculptors are quietly rejoicing – for logistics, snow and ice are a challenge and the impetus for coordination, reloading and hoping that roads and railways remain accessible. Can we look forward to a white winter? Of course! The logistics team is prepared.