DB Schenker has extended its global flight network. A total of 43 weekly flights transport as much cargo as 135 wide-body passenger aircraft normally would hold. There are now even flights that connect America, Europe and Asia directly. This is a new chapter in DB Schenker's corporate history – and a real plus for the shippers.
Fewer passengers, less cargo capacity
Why more cargo flights now? As so often in these times, the answer is: Corona. Only half of all air freight shipments are transported on a designated cargo plane. The other goes on the journey with ordinary passenger planes. Usually this system works very well because millions of people take off every day. But during the pandemic, significantly fewer planes with vacation and business travelers are taking off. And that has a significant impact on air freight.
From America via Europe to Asia and back
That is why DB Schenker has significantly increased its own air freight capacities. Or, as Thorsten Meincke, Board Member for Air and Sea Freight at DB Schenker, puts it: "As air passenger travel is still far from recovery, we have decided to create new and reliable cargo options for our customers."
For example the two three-continent connections. Since mid-January 2021, the first has been running from Chicago via Munich to Tokyo and Seoul. In the South Korean capital, the plane "turns" and flies back to Chicago via Munich. DB Schenker can transport up to 400 freight tons on this route every week. The second route between America, Europe and Asia connects India, Germany and the USA. The weekly capacity here is 300 tons.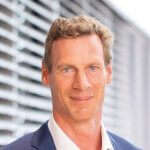 Thorsten Meincke, board member for Air and Sea freight at DB Schenker
"Our existing and strong flight network will become even more global."
Secure supply chains
Global supplier networks require global logistics solutions that function reliably even in the pandemic. DB Schenker supplies automotive manufacturers and pharmaceutical companies with raw materials, components and spare parts for which the sea route is too slow. The new DB Schenker air freight ensures that the supply chains remain stable for these customers and for companies from other sectors.
"New ways in #logistics: #DBSchenker connects three continents in #airfreight."

Tweet WhatsApp
All connections are operated with Boeing 747 and Boeing 777 full freighter jets. More than 330 of the Boeing 747 are in use worldwide. Boeing has delivered 200 of the 777 freighters to date.
Munich Airport handled a total of 145,113 tonnes of air freight in 2020. That was 56 percent less than in the previous year. The passenger volume fell by almost 77 percent last year.
Belly freight
In air freight, a lot is usually done "from the gut". Namely from the belly of the passenger aircraft. Experts speak of belly freight. Belly alludes to the cargo hold of regular passenger planes. The proportion of belly freight in the total volume of air freight shouldn't be underestimated: In times when there are no travel restrictions, around half of all shipments travel with passengers on the plane.
Related Articles