Tens of thousands of storage spaces, routes for forklifts, tractors, pallet trucks, order picking and packing stations, extensive safety regulations … A logistics center is a complex and demanding work environment. This highly dynamic world is not so easy to imagine for new staff and customers.
Such a logistics center is difficult to describe in words. Immediate visualization helps best here. DB Schenker created the Schenker Casino virtual reality warehouse environment for a variety of training and demonstration purposes in order to avoid on-site appointments and an interference with ongoing operations.
VR glasses on and immerse yourself!
DB Schenker Casino is a virtual warehouse environment based on the model of a real logistics center. Equipped with virtual reality glasses, "visitors" can experience the location as immersively as possible. This means that the rooms, facilities and processes can be experienced very realistically from the first-person perspective. When entering the virtual warehouse world, users can first get a rough orientation on a miniature model of the warehouse. One step further and they are immersed in the lively warehouse operation.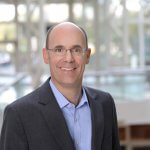 Gerald Müller, Vice President Industrial Engineering at DB Schenker
We are proud to use the potential of virtual reality efficiently with our current training and sales methods.
The DB Schenker Casino now offers numerous virtual activities and applications. During a virtual tour, for example, fictitious security defects or damage can be discovered and rectified. Information and instruction animations can be viewed on large video screens. Packing can be practiced and perfected in a playful way in an interactive environment. A digital quiz invites you to test your learning. You can even "beam" yourself onto a roof rack in the hall in order to analyze the complex logistics process from a bird's eye view.
Free programmability for different applications
The program design by DB Schenker Casino allows a quick and uncomplicated setup of very different presentation and interaction content in the virtual warehouse environment. They can be freely selected by local users.
Christina Kunze, Senior Project Manager – Digital Engineering / Training at DB Schenker: "We have been using virtual reality applications for a long time, especially for training purposes. The idea for the large, integrated, virtual environment DB Schenker Casino came about while preparing a large logistics fair. In the meantime, thanks to the free design of the system, we have identified and tested a wide variety of possible applications. For example, safety and process training or sales support presentations. The experiences that the colleagues report from the operational deployment are consistently very positive. "In the future, the platform could be expanded and topics from other DB Schenker divisions such as land transport or air and sea freight integrated – towards a virtual DB Schenker logistics world.
"@DBSchenker invites you to the casino digitally. Virtual reality and gamification ensure quick learning effects."

Tweet WhatsApp
At the latest when the use of virtual reality glasses becomes even more unrestricted in the post-corona period, logistics games should be open across the board in the digital DB Schenker Casino.