A truck driver who travels long distances on behalf of DB Schenker covers up to 600 kilometers per shift. So, he can easily cover a distance like Mannheim-Dresden or Aachen-Regensburg. In theory! In practice, however, he doesn't. Because otherwise he would end his tour and shift far from home. – "That doesn't have to be the case," says Volker Bade. "We have a more elegant concept for that."
Bade is responsible for DB Schenker's network and line transports in Germany and Switzerland. These system transports connect the logistics provider's 43 German terminals according to a fixed schedule. Almost every terminal sends a truck to every other one every evening. 1,750 departures, five times a week.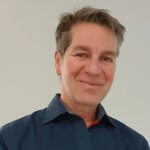 Volker Bade, Schenker Deutschland AG, Head of Network- & Linehaul-Management
"Encounter transports ensure the reliability of our national and international network."
Round Trip for a 300 Kilometer Distance…
A very common production system in land transportation is the round trip. This involves trips to terminals that are a maximum of 300 kilometers away from the start. The driver reaches the destination about halfway through his shift. There he drops off one or two swap bodies. He then picks up new bridges for the return trip, observing the prescribed break times, and sets off again. Since he covers no more than 600 kilometers in total, he is back home at the end of the working day – usually in the early hours of the morning.
… and Encounter Traffic for 600 Kilometers
But what if there are more than 300 kilometers between two terminals? What then about the "elegant concept" for home sleepers that Volker Bade talks about? – The answer is: encounter traffic. They work similarly to a round trip and like this:
Let's take terminals A and B, which are 600 kilometers apart. At about the same time, a truck starts at A and one at B. Halfway through the route, they "encounter" each other. The drivers exchange not only friendly greetings, but also their swap bodies or semi-trailers. The truck from A takes over the load destined for A, the one from B that for B. Each then drives back to its starting point. Both drivers finish their working day after 600 kilometers and are at home.
Meeting at the Corporate Terminal or at Defined Exchange Locations
And where do the trucks meet? Switching swap bodies and trailers requires shunting areas. The most common places for this are DB Schenker terminals halfway along the route or selected swap areas. Since the whole thing takes place at night, there's not too much going on there and therefore plenty of space.
"Encounter traffic means: Truck drivers swap their swap bodies halfway through the route."

Tweet WhatsApp
Guarantor for On-Time Transports
Due to the regular and always identically timed execution of transports in a round trip or routines that are created by encounter traffic. This is precisely what ensures reliable delivery on the agreed dates. In DB Schenker's German transport operations, it is normal for goods that are taken over during the day to arrive by night at the DB Schenker branch office, which takes over the fine distribution.
Cross-border transports of up to 1,200 kilometers are also handled by encounter traffic. Here, the vehicles meet after about 600 kilometers. Due to the legally prescribed driving and rest periods, an overnight stay away from home cannot be avoided.
Fixed Working Hours and Closing Time at Home
DB Schenker organizes around 80 percent of all system transports in Germany in such a way that the drivers start and end their shift at the same terminal. So, for the more adventurous truckers, national round trips and encounter transports are rather nothing. "The argument is: fixed working hours," says Bade. "Drivers for system transports lead a regular life outside the cab as well." – Most of them, and their families, appreciate that.
Info box: Swap Body
Swap bodies are container-type loading equipment: they stand at transshipment points on rather thin but surprisingly stable feet, waiting for a truck to take them on the road. One logistical advantage of swap bodies is that they can be quickly disconnected from a tractor or trailer (carriage) and just as quickly connected to another unit. DB Schenker uses around 8,000 swap bodies for domestic German transports alone.
The swap bodies belong to DB Schenker, while the tractor units and trailer mountings are generally the property of the contracted transport partners (carriers). These service providers take care of the actual transport.
Related Articles