Digitization in logistics has long been not just about the right technology, but about the right employees. And that poses great challenges for many logisticians: The skilled labor market has been swept empty in some areas. Finding trainees is not easy either – even if logistics has seen an enormous boost in image over the past few months.
Jobs in the logistics industry are often said to be jobs with a future. And for good reason, because apprenticeships such as warehouse logistics specialists are jobs with good career prospects. In many different industries there is a growing need for employees who can act across departments for logistical activities. The IHK Schwaben, for example, shows how attractive training in logistics is. "This summer we have more test items than ever before. 550 apprentices from all over Swabia will be tested in logistical training professions in summer 2021", says Martin Heger, chairman of the examination committee of the IHK Schwaben.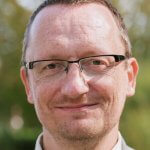 Martin Heger, chairman of the examination committee of the IHK Schwaben
"Companies with a good reputation quickly implement innovations in the training market. And word gets around quickly when someone does poor training."
The 42-year-old is a trained merchant in wholesale and foreign trade and now works for the training provider Vocational Training Centers of the Bavarian Economy (bfz). Based in Augsburg, he is responsible for coordinating digital training throughout Germany. Augsburg, on the other hand, is an important location for the aerospace industry, but also for the metal and electrical industry – DB Schenker is represented here with a large hub.
Lifelong Learning
Nevertheless, it is anything but easy for companies to find suitable employees. For the Swabian region, Heger has identified a risky trend in training: the exam results have gotten worse in recent years.
Trainees would have to bring many other skills with them in order to assert themselves in the increasingly networked world: In addition to a digital affinity, this includes dealing with office programs and similar tools, as well as curiosity and the will to develop further. "A high level of problem-solving skills is also very important," says Heger. "Not only in principle, but also when used in practice in everyday life."
Digitization of training depends on the trainer
For years, trainees and employees in logistics have been under pressure to develop their content. "Digitization started much earlier – not just with the corona pandemic," says Heger. Networked systems, RFID processes or autonomous work with cyber-physical systems have been on the advance for a long time. This requires a high degree of adaptability from the employees.
These technical achievements are conveyed to trainees in their training in everyday professional life. "However, there is often a lack of background and insight beyond the specific processes. The overarching topics are often neglected in practice, "says Heger. It is true that connections can be conveyed with a certain amount of effort and the simulation of situations. But the most important thing is on-site practice in the company.
Bad training gets around quickly
In general, a lot has changed in training in the logistics industry, even if the latest trends have not yet been incorporated into the training framework plans. They were last revised 15 years ago. How well the training prepares you for new jobs often depends on the company – and on the relevant applicants.
"Logistics offers jobs with a future. But the fight for the next generation is tough: companies have to come up with some ideas. #digitization #training"

Tweet WhatsApp
"Today, there is fierce competition for trainees in logistics, so companies have to come up with a lot," says Heger. "Companies with a good reputation quickly implement innovations in the training market. And word gets around quickly when someone does poor training."
The favorites among the young applicants are not just high-performing companies with many digital tools. It is precisely the companies that give employees and trainers time for training and preparation for exams.
Working digitally at DB Schenker
Corona has shown that digitization is only successful if the users of the software solutions accept and fully understand them. Digitization is not just information technology, but also a mindset. At DB Schenker, most of the job interviews for schoolchildren are already taking place digitally. As soon as the trainees start at DB Schenker, they have a wide range of e-learning and digital training courses at their disposal, starting with the basics such as the use of MS TEAMS or the office programs through to special logistics software. In this way, DB Schenker prepares the young talents from day 1 for successful work in an increasingly digital work environment.
Related Articles